Welcome to the website of Woofie the Wonder Dog (WWD)
UPDATE 1/1/18 - Woofie is 12 years old (going on 13 on April 29, 2018!) It's been a while since the last update [below] so we know her fans are eager for all the news -- Let's get right to the update...

Remember that Woofie also works part-time with David as Do It! Marketing Dog and thus, you can follow Woofie on Twitter. And she also has added LinkedIn to her online profiles. And now - let's catch up with Ms. Woofie's adventures!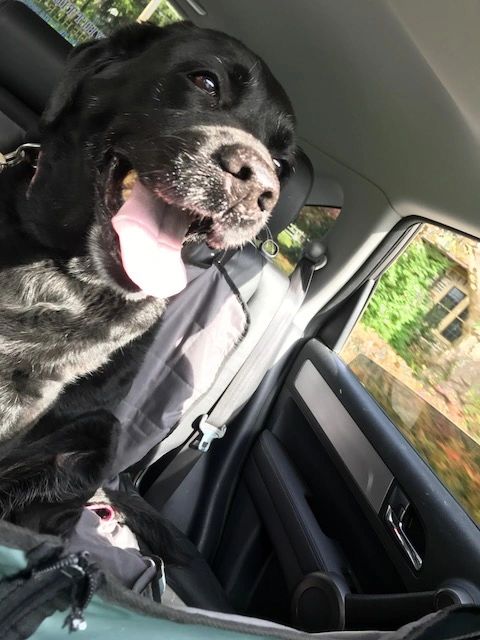 Woofie still loves to drive around - whether that's with the family in the back of the Honda CR-V in her "taco" dog hammock or with David tooling around town in the M3...




Sometimes even with the top down...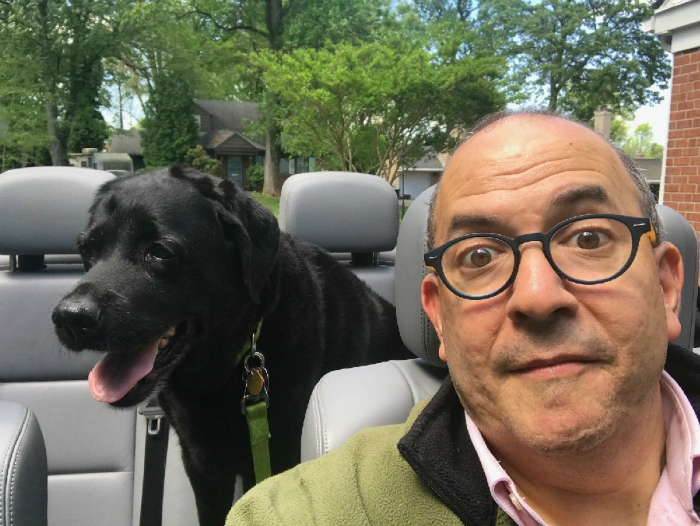 Car rides often include a trip to the bank, which Woofie loves for obvious reasons...


Christmas is always special for Woofie since her stocking is always the FULLEST of the whole family. Vanessa helps out because Woofie doesn't have opposable thumbs...


Becca is also very helpful when it comes to unwrapping presents...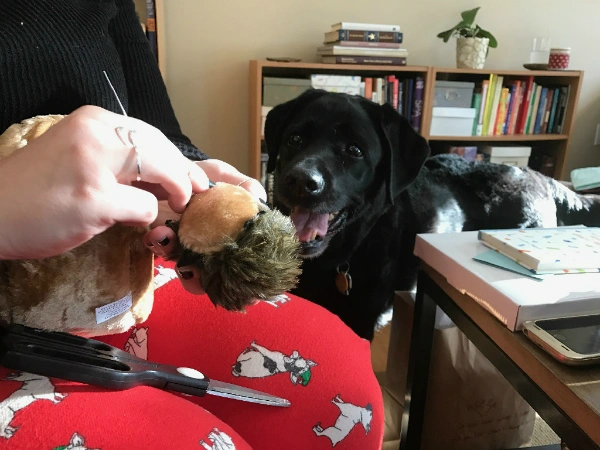 Speaking of winter - the winter of 2016-2017 was just nuts - lots of snow. Thank goodness Charlie and Aubrey were here to make it all fun: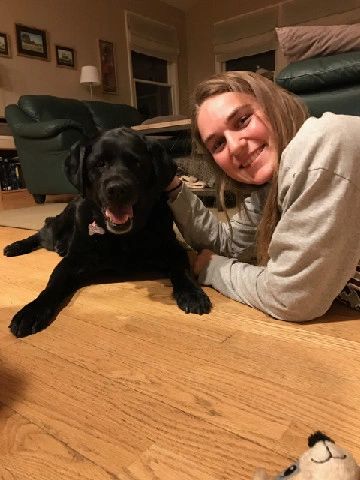 Aubrey even got her East Coast initiation of snow blowing fun! She was very brrrrrrr-ave:



Did we mention Woofie loves all her toys?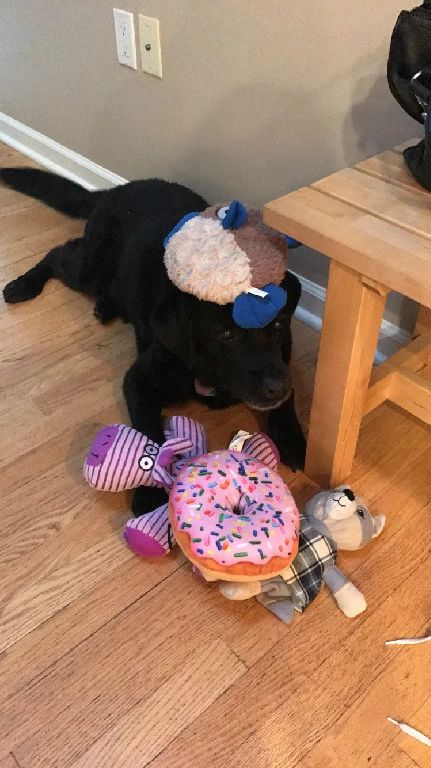 Once 2017 got fully underway, Woofie chipped in to help David with a lot of work, especially during his videos: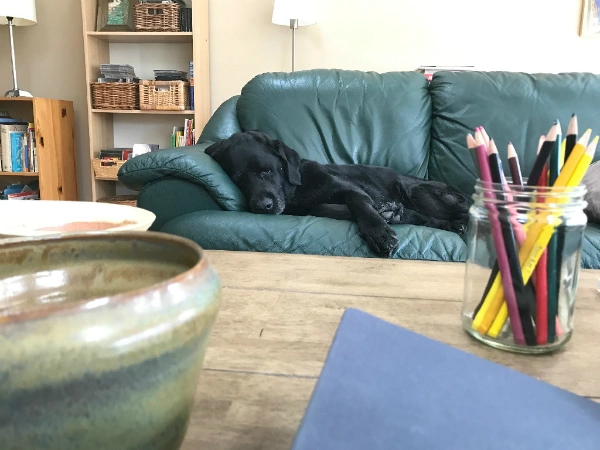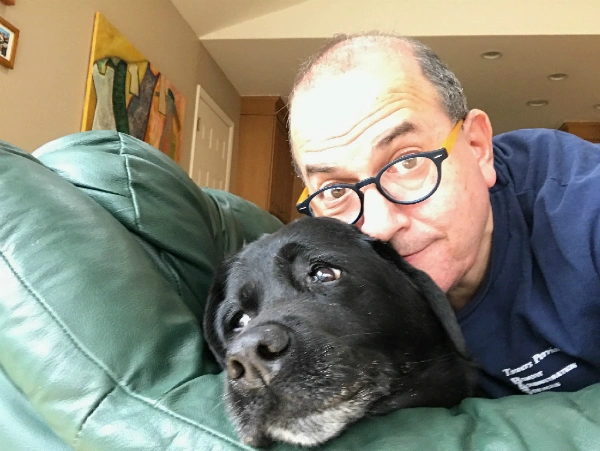 April 29, 2017 brought Woofie's 12th birthday, complete with shopping trip to her favorite store, PETCO, to choose her presents...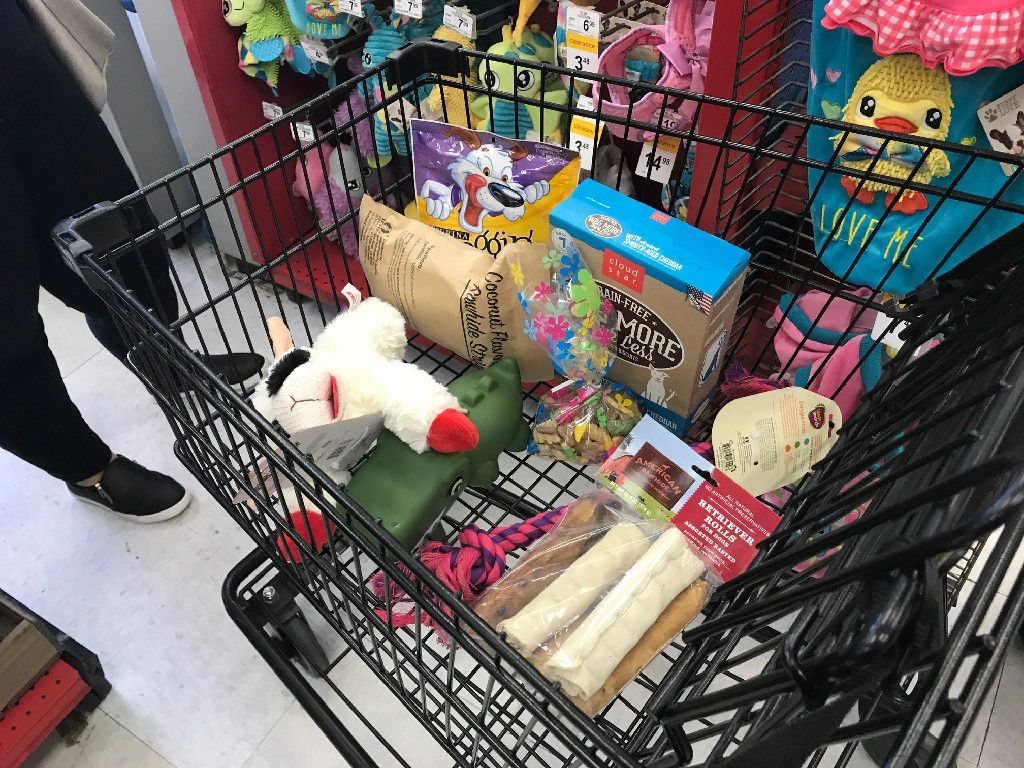 As the weather started to warm up, Woofie looked forward to sun-filled naps and our usual trips to Starbucks for her favorite order - a Puppacino®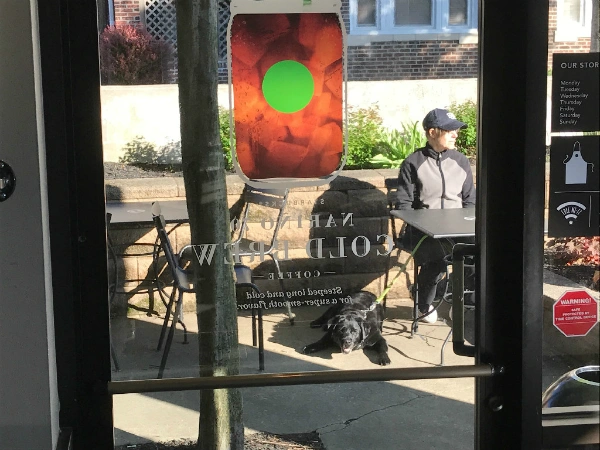 As summer approaches, we all start looking forward to our annual Ocean City NJ beach vacation...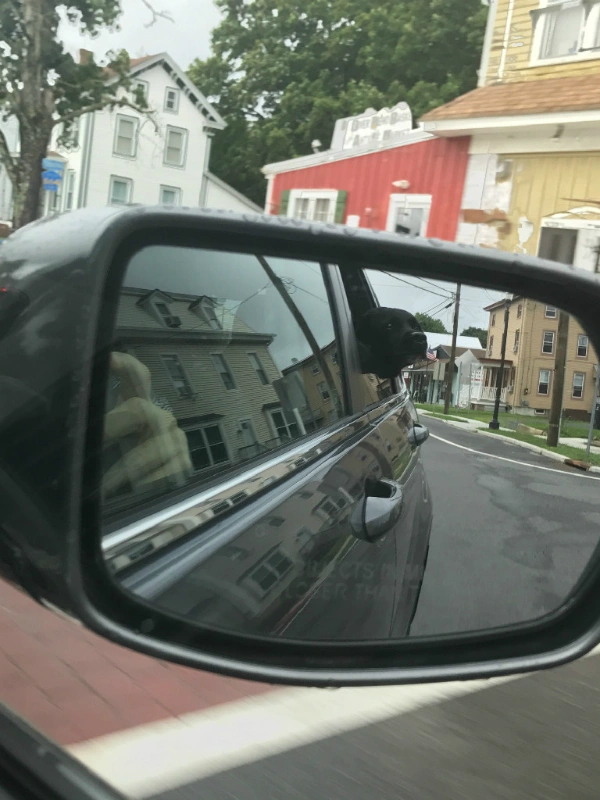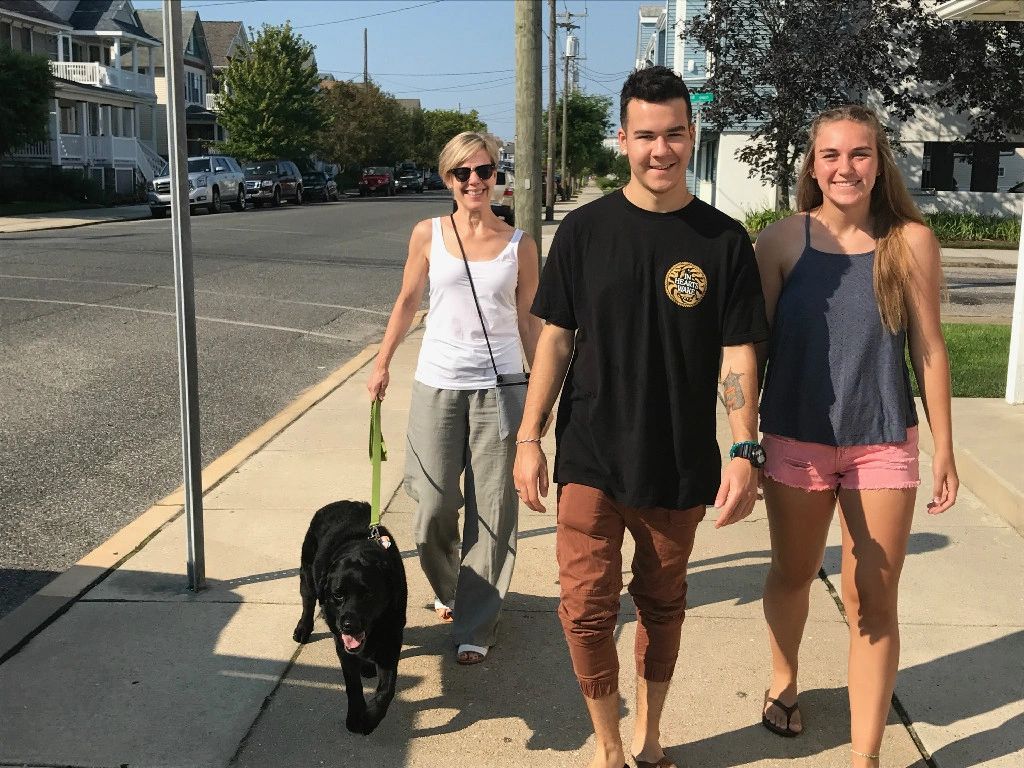 Woofie had so much fun with Charlie and Aubrey - including her first soccer lesson!!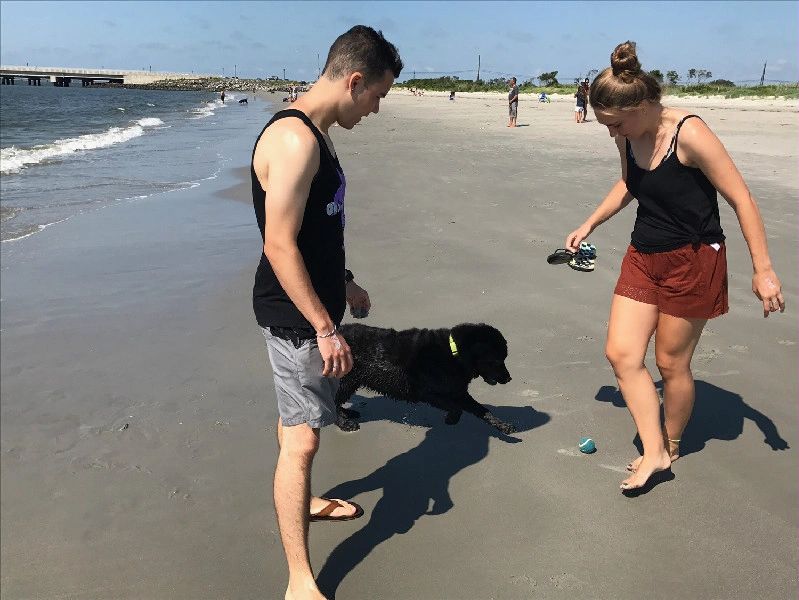 And then Aubrey and Charlie got REALLY creative to make Woofie a personalized portrait on the sand before heading home...




What a happy puppy!




And the fun JUST kept on going and going and going...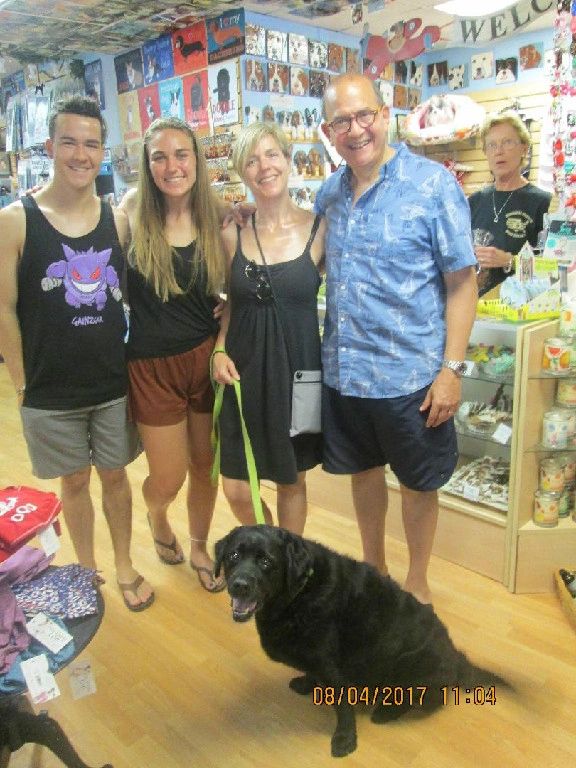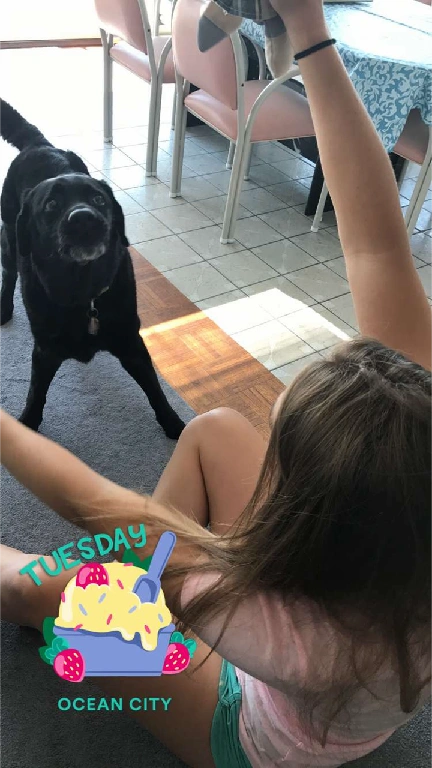 Until somebody just got plum tuckered out by all that beachy fun - Zzzzzzz...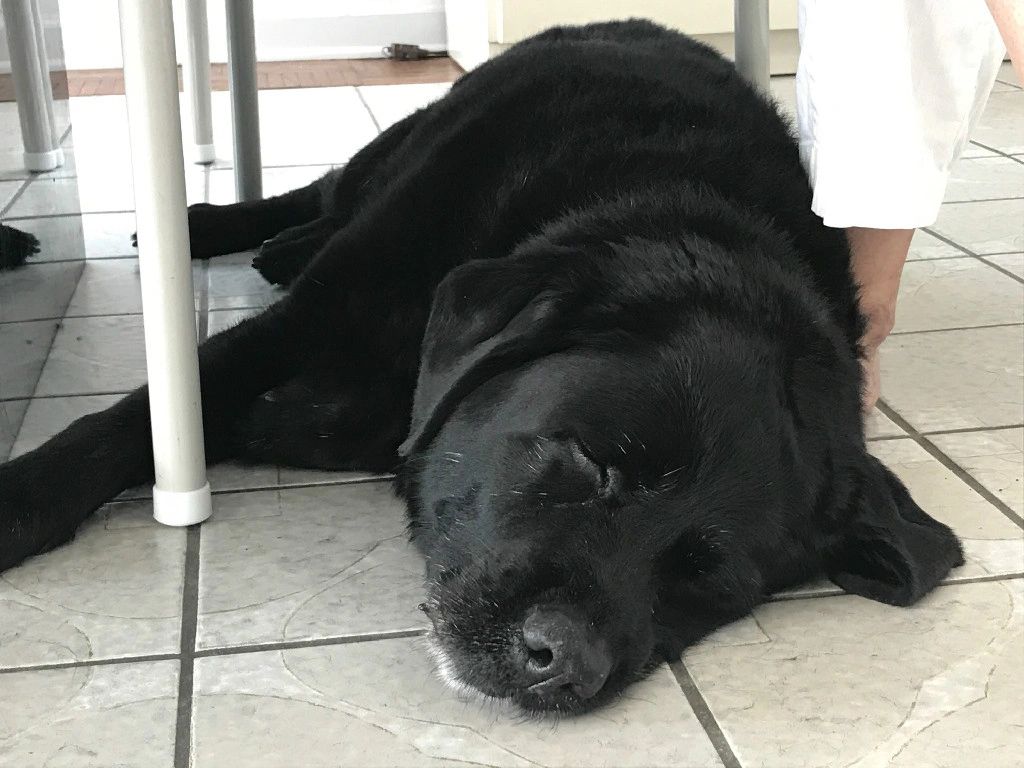 And Woofie's adventures continued through the Fall and holiday season of 2017...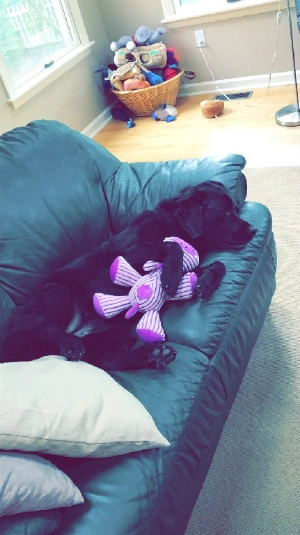 Including making her usual rounds through the neighborhood as Santa's little helper (at Starbucks) and the great tree hunt of 2017...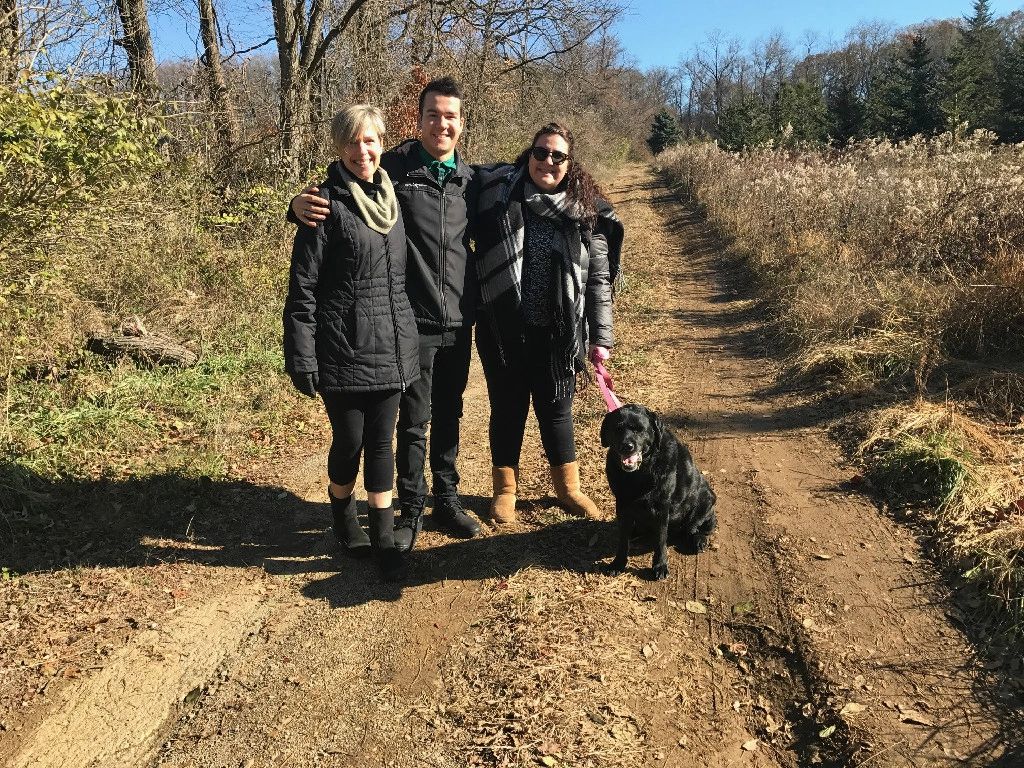 Woofie's advice for 2018: Always be on the lookout for new adventures AND...




No matter what, remember to find some good reasons to...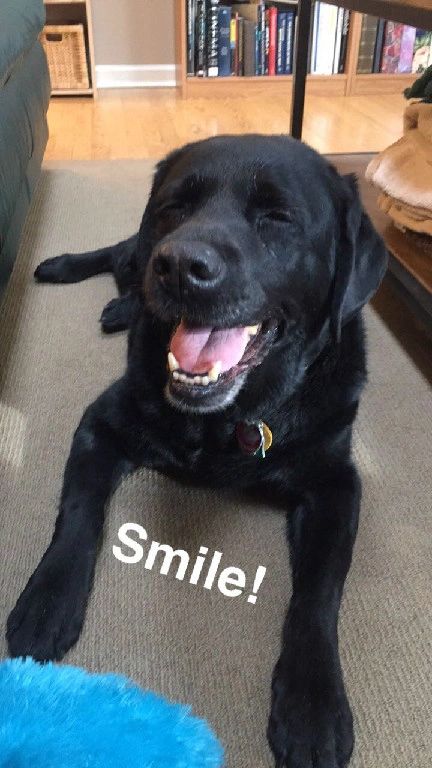 ---

UPDATE 4/29/16 - Woofie is 11 years old today! Our big girl is really enjoying being a senior dog. Besides a little gray hair here and there, she has so many exciting things to report... we better jump right into the update.

As is the case with most of us these days, Woofie is getting more into video...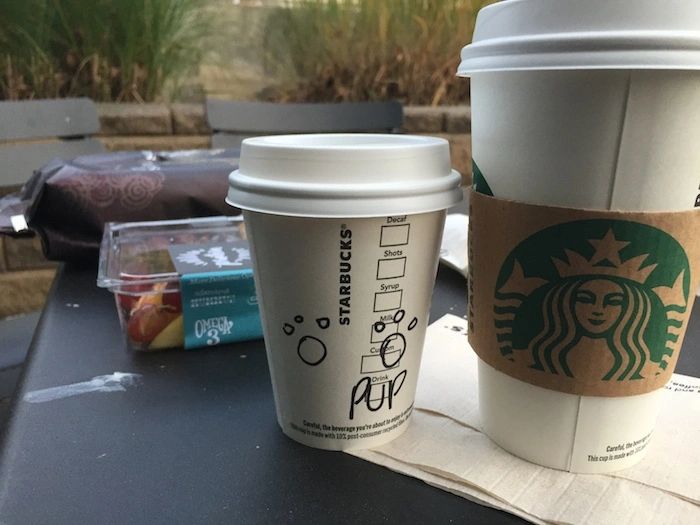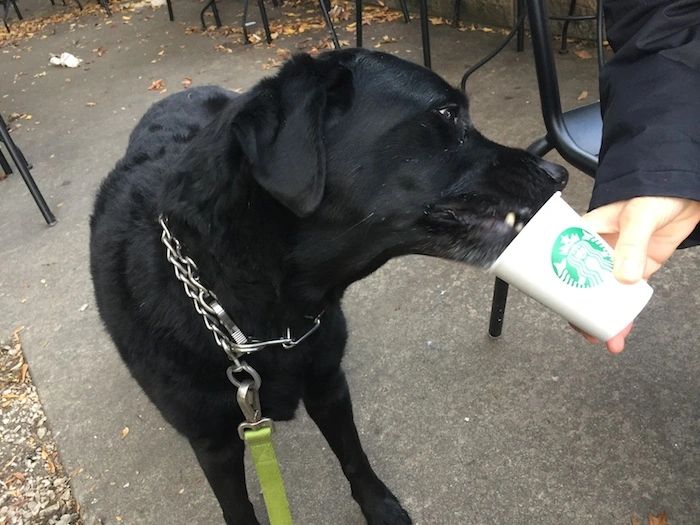 This is the year we discovered the wonder of the Starbucks Puppucino - the special "drink" for dogs that's really a cup full of smooth, delicious whipped cream.
Woofie is not only a Starbucks gold member, but also a regular at our neighborhood Starbucks when our morning walks take us there for a quick breakfast date!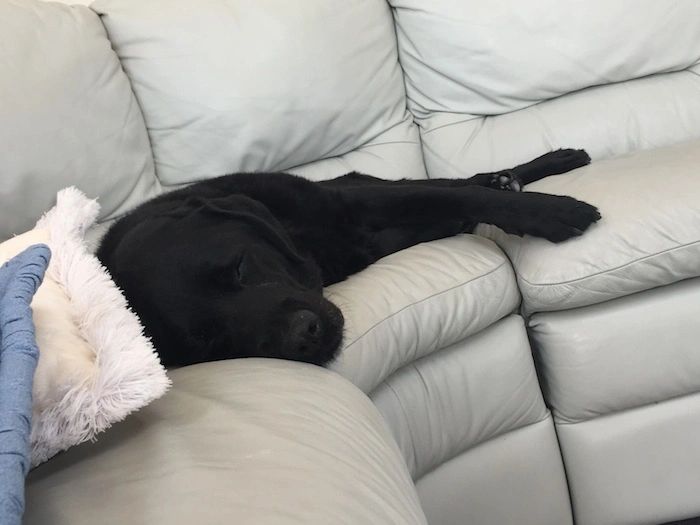 Naturally, this year we took our annual pilgrimage to Ocean City - our very favorite summer spot right on the beach where we rent an amazing house from our amazing friends, Carla and Denny. Woofie certainly appreciates the special "friends and family" treatment they give us by allowing such a well-behaved dog in a property that is ordinarily "no pets." (Let's not discuss black dog hair on the white leather sofa, OK?)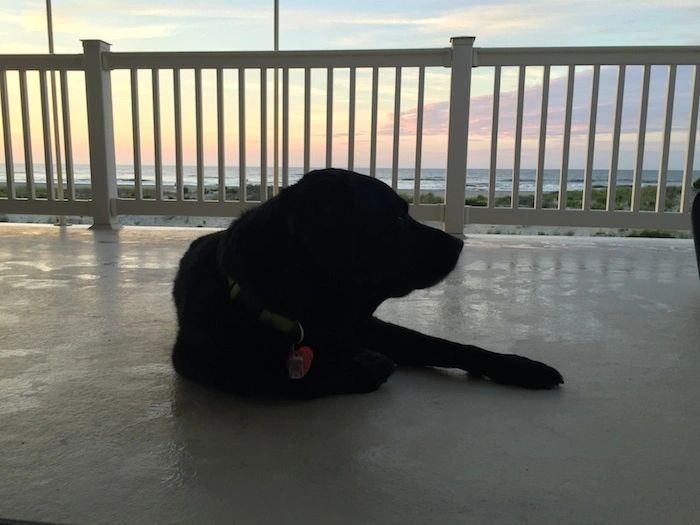 Woofie appreciating the calm beauty of sunrise from the deck overlooking the ocean.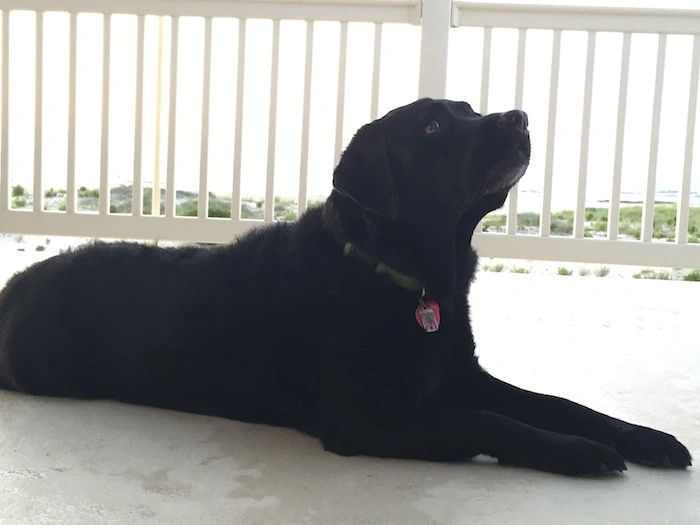 "What? Time for lunch already??"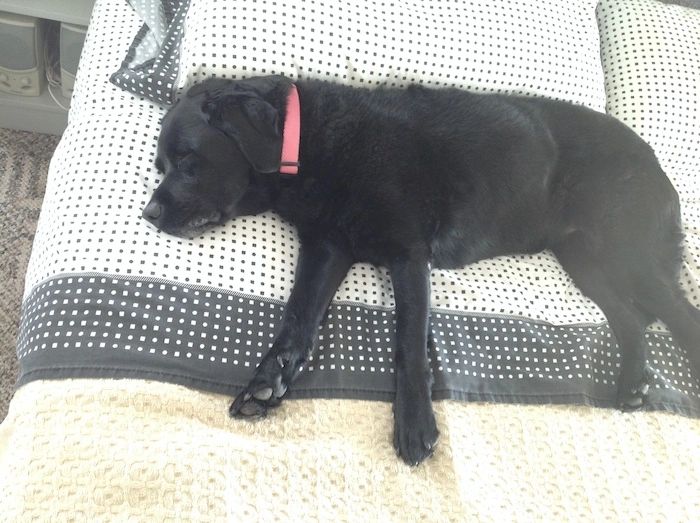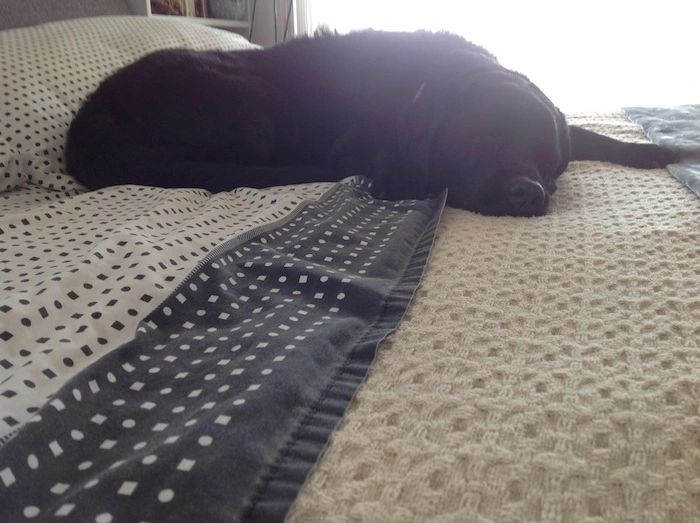 "While David, Vanessa, Becca, and Charlie are out playing, I might as well catch some Zzzz's on the big bed."
No trip to Ocean City would be complete without some time at the Dog Beach playing catch, horsing around with other pups,
and generally having a great old salty time!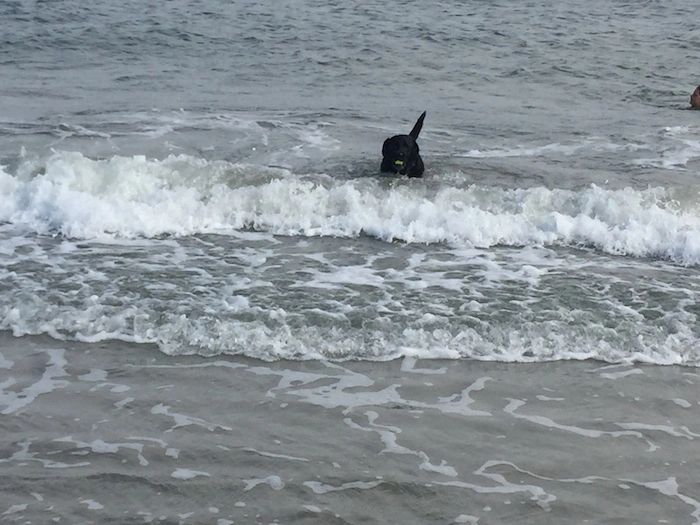 Woofie is a big believer in having her feet firmly planted on the ground, which means she only goes in the water about up to her chest and any further than that... well, it's probably not going to happen ;o)
Woofie getting ready for game night.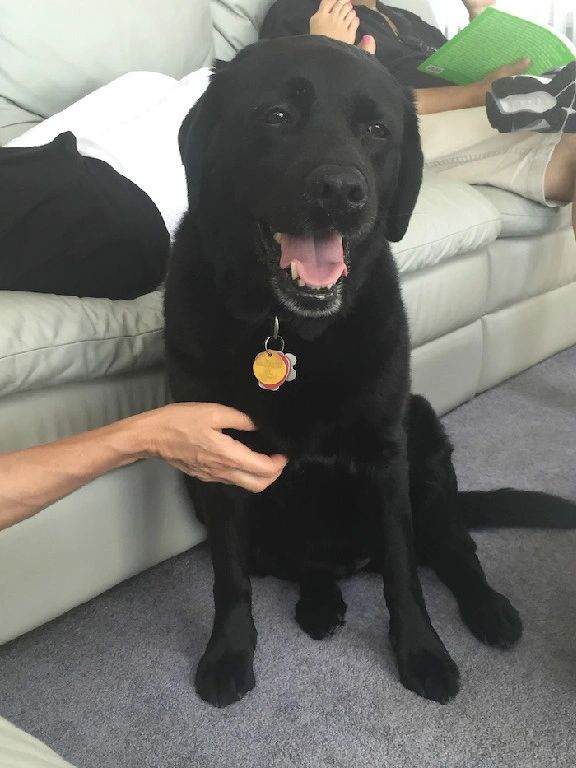 Relaxing, reading, and chest rubs. Mmmmmmmmm...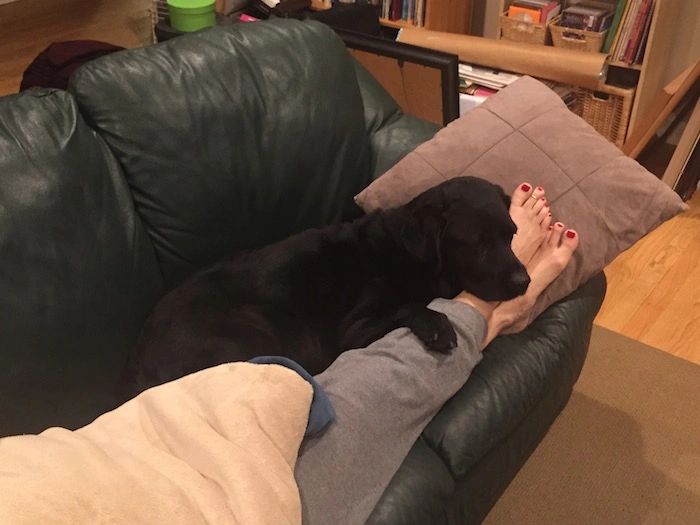 One of Woofie's favorite things to do is hang out with us in the morning... sometimes even hanging ON us, as you can see in the photo above with Vanessa and Woofie sharing some green sofa time!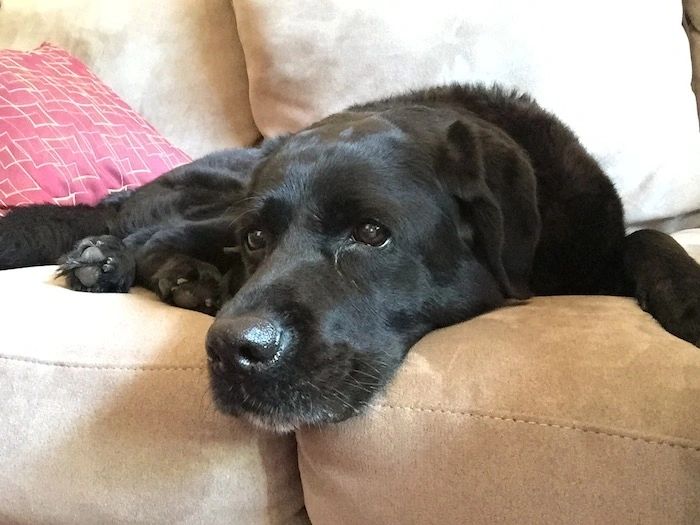 Not one for the same old routine, here's Woofie relaxing on our OTHER sofa in the living room!!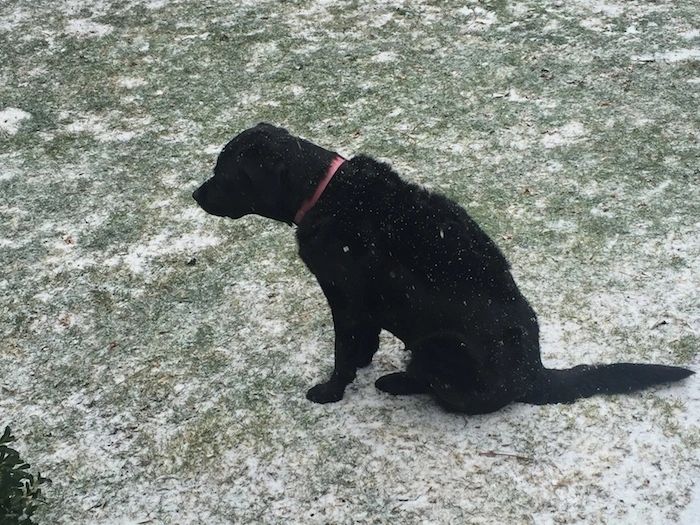 2016 was another crazy winter with lots of snow. Woofie doesn't seem to mind, though.
Must be her Canadian roots in the rough winters of Labrador and Newfoundland!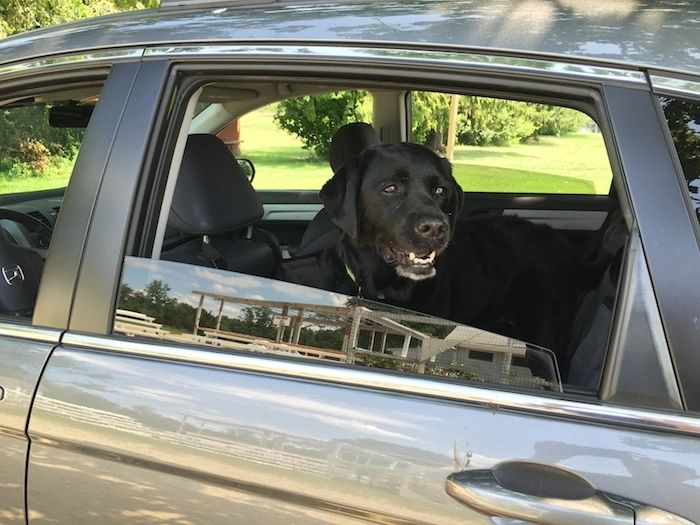 "Road Trip!!!"
The entire family at home - Woofie really loves when the whole "pack" is together!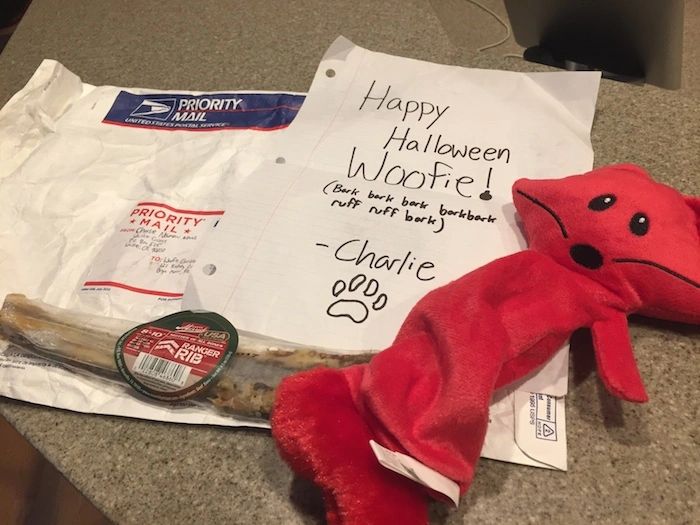 This is Charlie's second year at college and not only does Woofie miss him a lot, it seems the feeling is mutual because Charlie sent home a wonderful package of Woofie toys and treats for Halloween. He sure loves his pup!!
Woofie posing for her annual "wet dog contest" glamor shot. And then Becca had this photo made into a T-shirt for David for Father's Day.
How cool is that?!?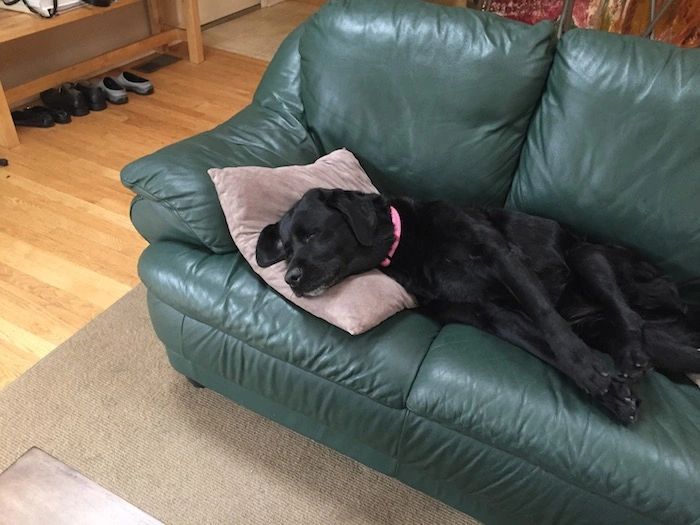 More nap time - and look at that cute gray chin!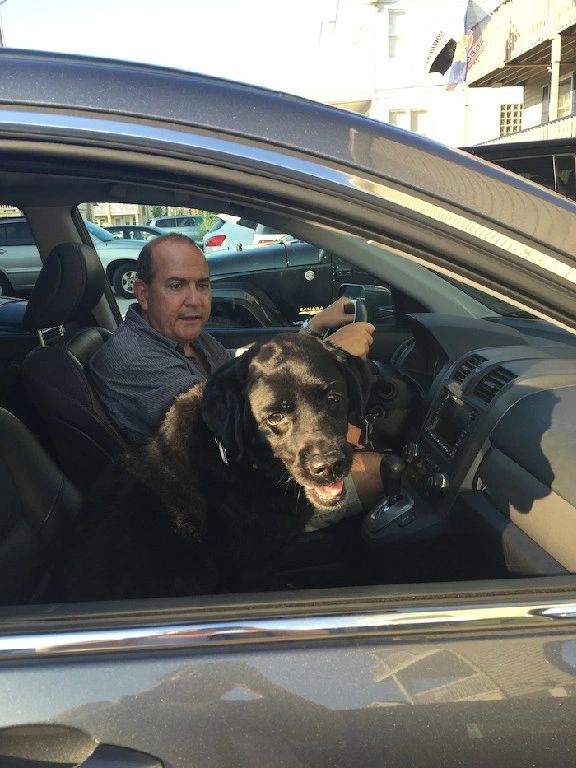 "Dog is my co-pilot" - Woofie continues to be a huge travel fan and she loves the car.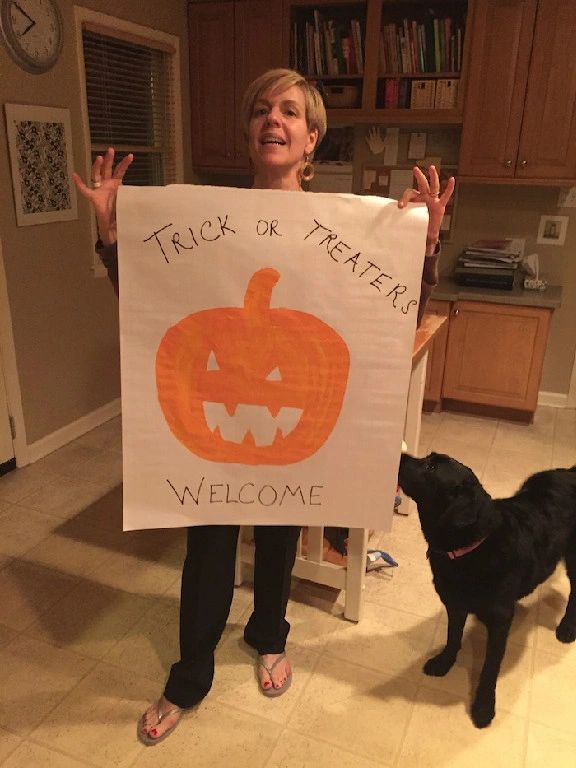 Woofie and Vanessa getting ready for the annual "Vinyl records, fireplace, and trick or treaters" ritual.
Looks like Woofie wants to find out if the sign tastes good!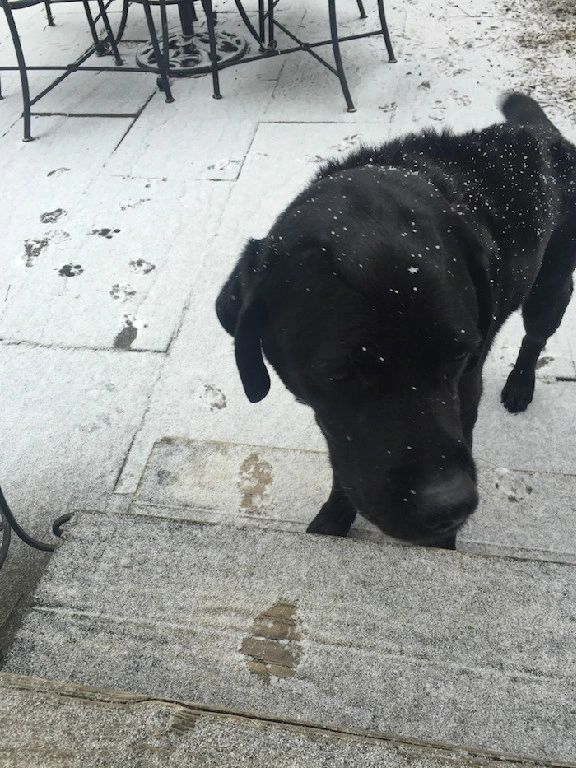 2016 edition of the famous "Black dog, white snow" phenomenon ;o)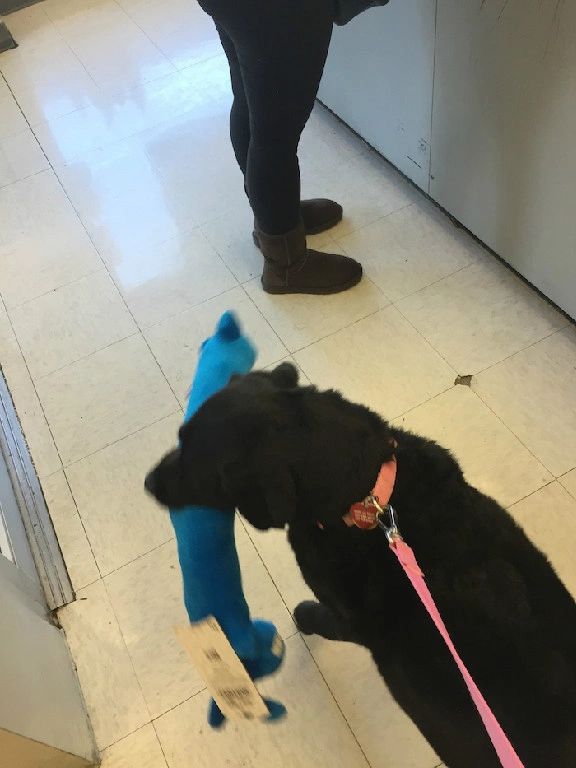 Woofie is so grown up - she can choose her own gifts from the pet toy store.
Just picked up Mr. Blue Dog and she is heading to the checkout counter!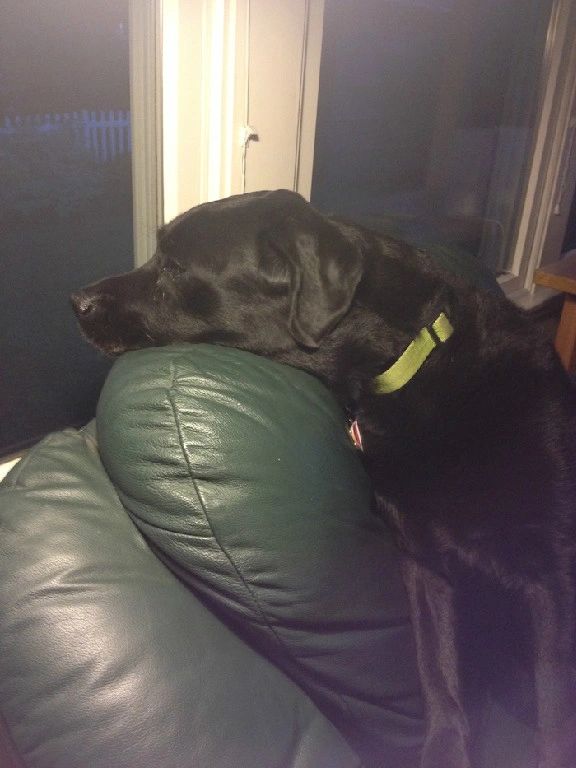 This year, we lost Mimi, the wonder cat. Very sad for all of us, especially Becca, since Mimi was "her" cat.
Although Woofie and Mimi were not close (Ha!!), Woofie still recognized "Funny Puppy" as a pack member and regularly holds a vigil in the green chair overlooking Mimi's final resting place in our backyard to commune with the little black cat's spirit and check in on her as she's doing above.
"I still miss Funny Puppy..."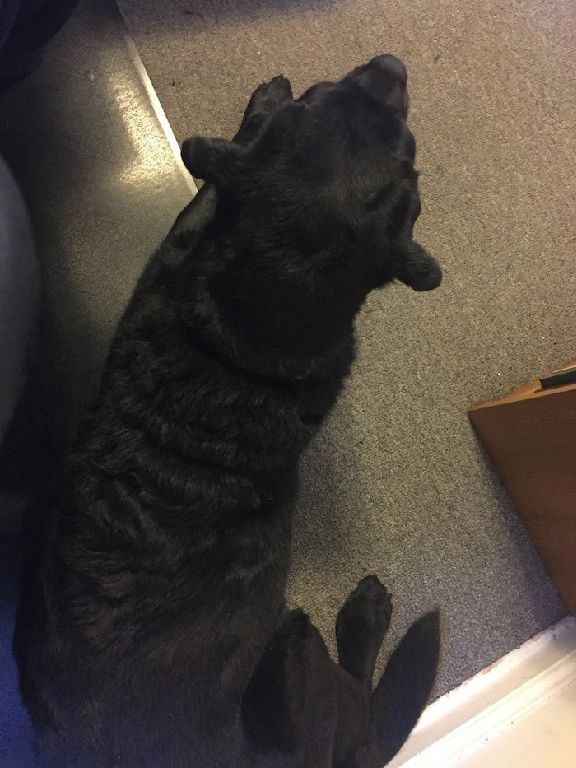 This is the view from David's office chair when Woofie is in residence as "Marketing Dog."
Woofie likes to plop down right next to David's office chair.
So much so, that one has to be careful not to roll over said dog's paws. So far, so good...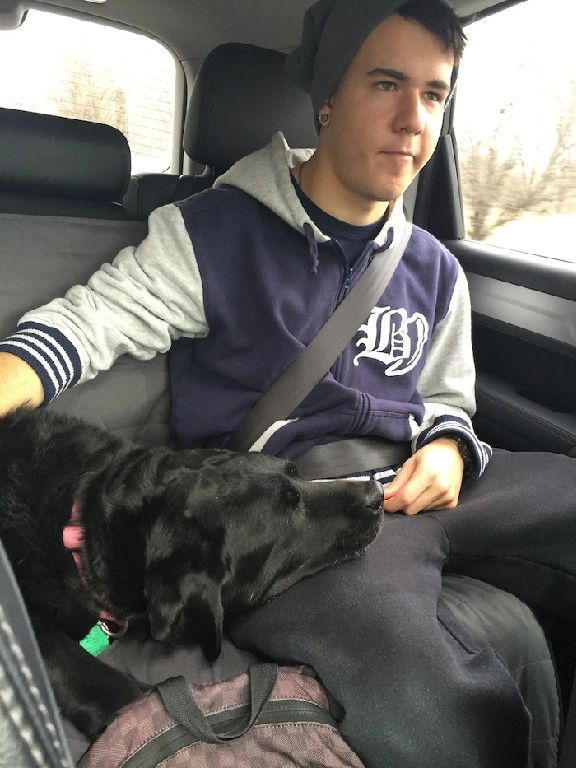 Since Charlie goes to school at Whittier College outside of Los Angeles, we really treasure the time we have with the boy during school vacations and the holidays. Here. we're taking Charlie back to the airport. Woofie wants to enjoy every possible moment with her big brother.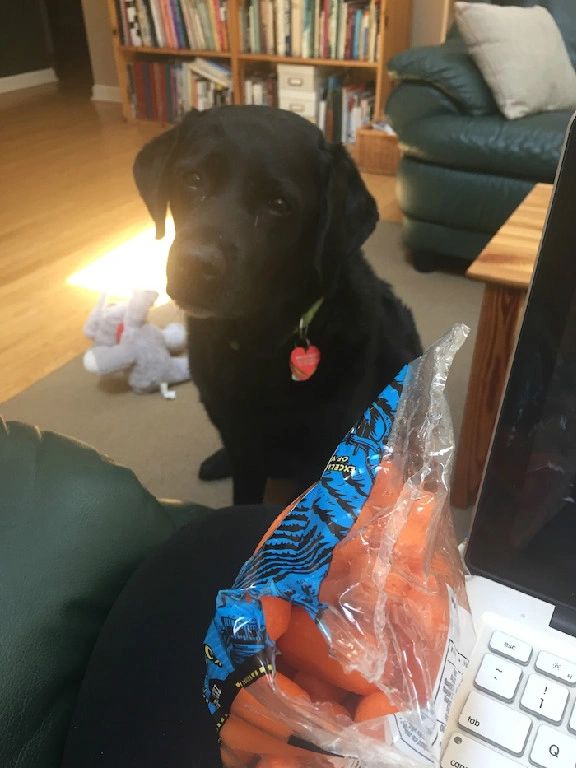 "Hey Mom? Mom? Mom? I like carrots..."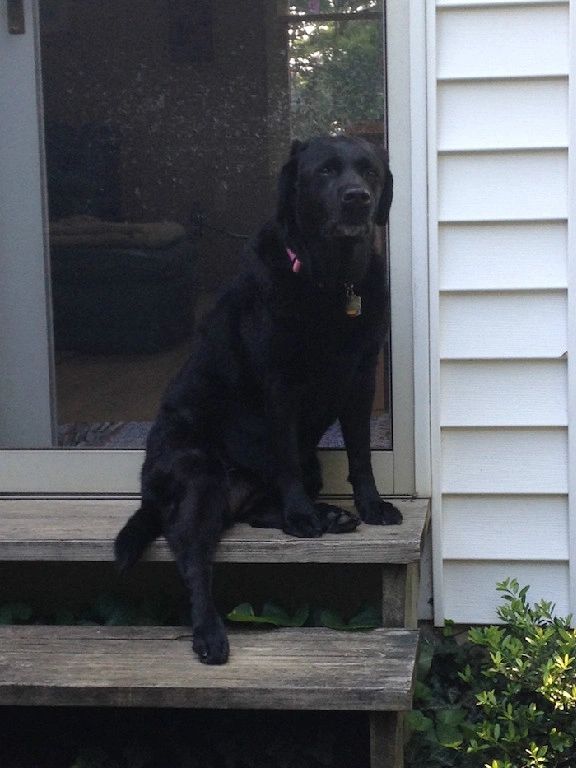 Here's our big girl surveying her domain from the back steps.
Another year of adventures ahead!!!
======

UPDATE 4/29/15
Woofie is TEN years old today!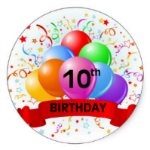 Wow - time is flying for our pup!
This was such a busy year that we forgot to do the 2014 update so
welcome to this DOUBLE issue
of Woofie's latest adventures from ages 8 and 9.
So many exciting things to report... we better jump right into the update.
You may recall that Woofie works part-time with
David
as
Do It! Marketing Dog
and thus, she would love to connect with you. You can also
follow Woofie on Twitter
. And last year, she added
LinkedIn
to her online profiles.
Naturally, she is ALWAYS excited to receive email from her fans at
woofie@whereswoofie.com
.
And she answers all her mail. (It's great to have human staff!)
Now - let's catch up with all of Woofie's 2014 and 2015 adventures…
Our big girl still loves to sniff, bumble, play and explore at Haverford Reserve, a nearby development with lots of trails, tall grass, trees, streams and LOTS of amazingly enticing smells (if you're a Labrador retriever, at least!)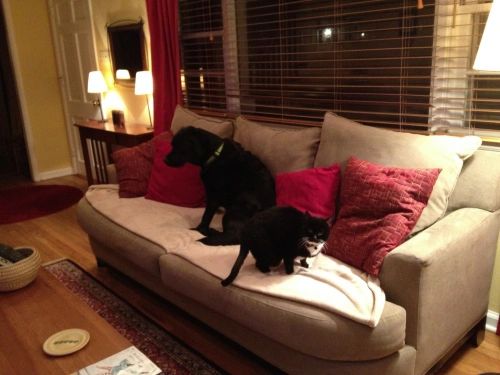 Woofie and Mimi are often caught watching TV together, reading the paper, and making each other cocktails when David and Vanessa are not home. The moment they're not alone, however, they resume their "cover" of complete indifference to each other.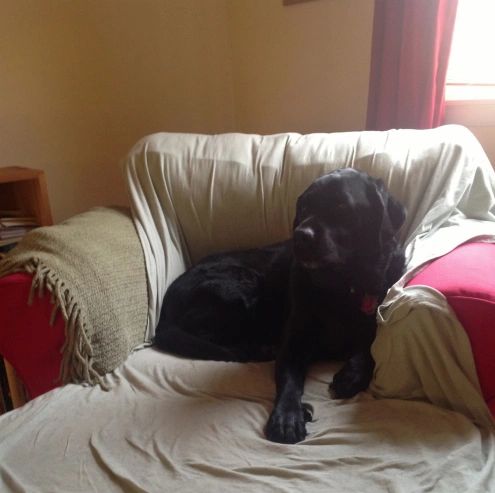 Woofie enjoys hanging out on her comfy chair in Vanessa and David's room both during the day for short naps and, of course, at night when the pack all gathers for a long night of relaxed snoring (Woofie and David) and doggie dreams (just Woofie.)
During 2014, Woofie tried to spend as much quality time with Charlie as possible, since Charlie was heading off to Whittier College (outside Los Angeles) and she knew that there would be at least "15 minutes" before she got to hang out with him again! They had some great laughs along the way, as you can see above.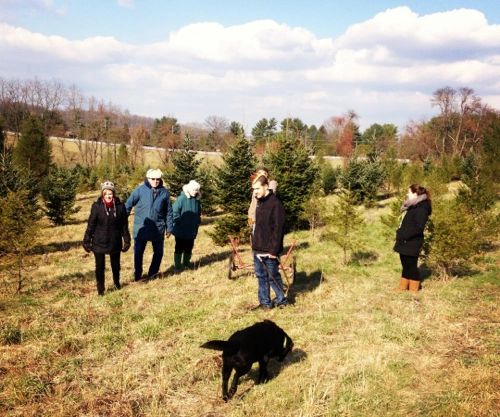 The great Pennsylvania family Christmas tree hunt tradition continues, although Woofie does miss her tree farm Labrador pals who are no longer roaming around the farm like they used to. (And look at Charlie's flaming Mohawk!)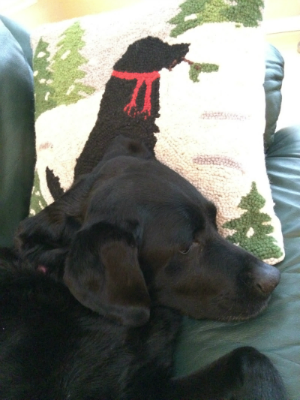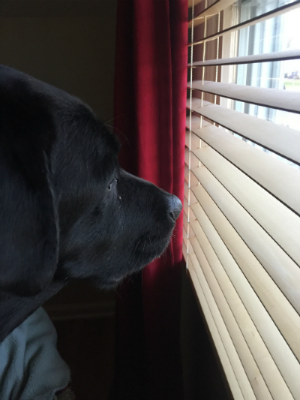 As Woofie matures into a senior dog, she's getting much more thoughtful and philosophical as you can see in these two photos above - first, contemplating the doggy dog world while resting on her doggy pillow; and then keeping watch on the neighborhood as she looks to solve the larger problems of the outside world. Good girl!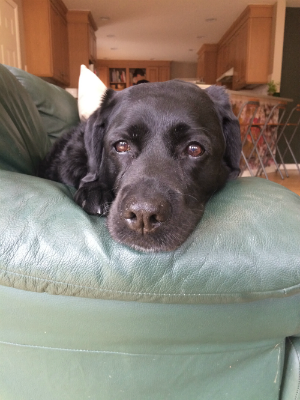 "Holy smokes - is that a squirrel outside?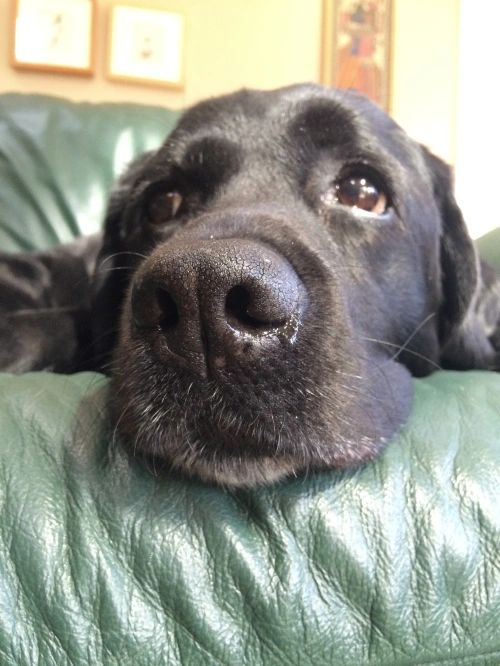 Thinking doggie thoughts...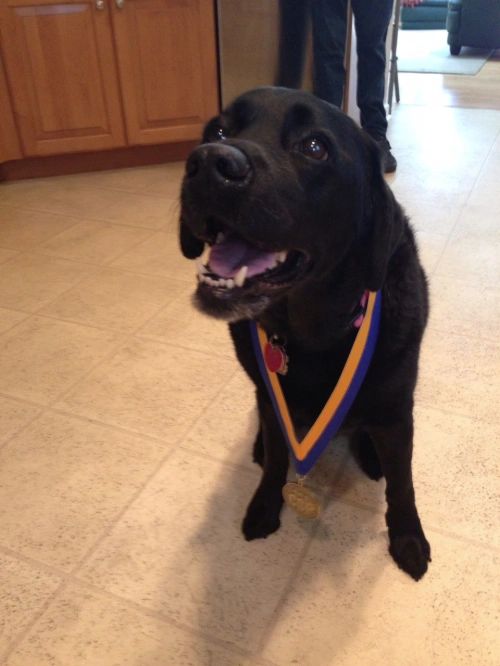 In the summer of 2014, Woofie earned the designation of CSP - Certified Speaking Pooch. Conveniently, she was able to borrow David's brand new National Speakers Association "Certified Speaking Professional" medal for her awards ceremony.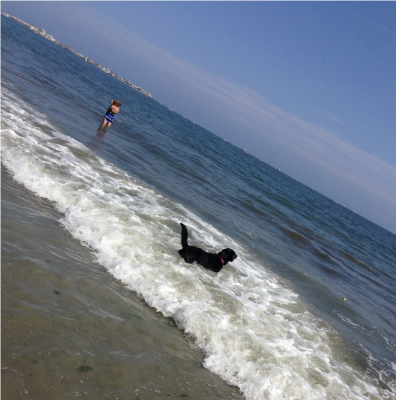 Now let's talk about Ocean City! Woofie always enjoys our annual retreat to our favorite beach house that we rent from our great pals, Carla and Denny. And the highlight of the trip is often multiple trips to the Dog Beach where Woofie can swim and play and give her sea dog instincts a good workout. (Most sea dogs swim but our girl just likes to go in up to her chest and then run back to us with a big goofy grin!)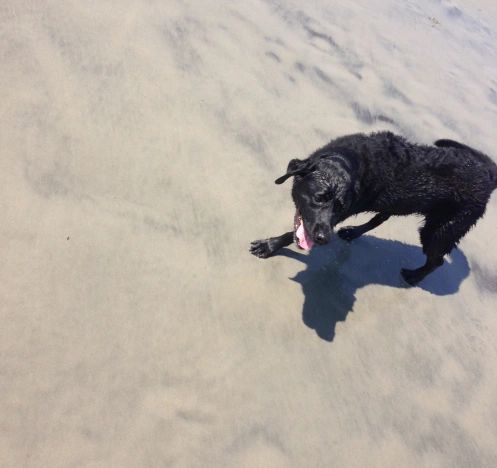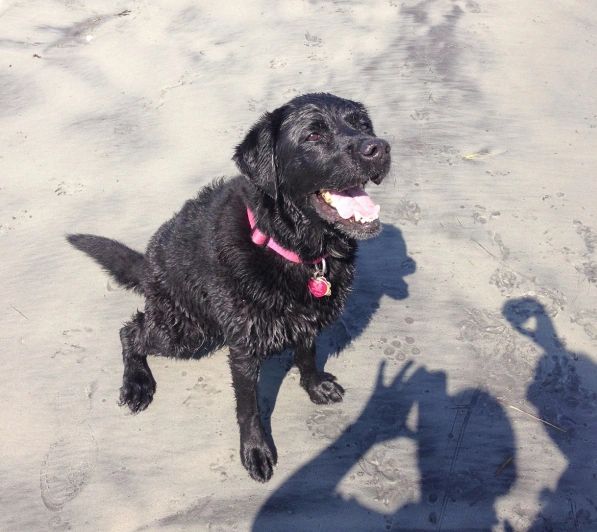 Paparazzi are everywhere when you're simply trying to relax at the beach




No trip to Ocean City is complete without our favorite breakfast treats from Dot's Bakery (according to David)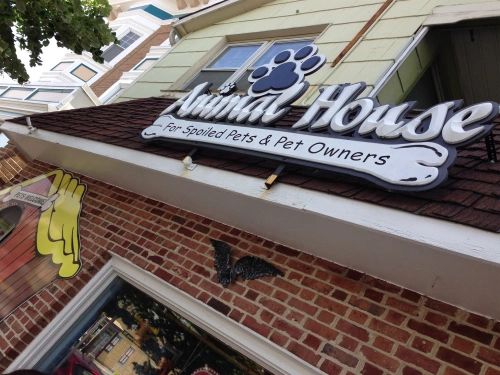 No trip to Ocean City is complete without our favorite dog treats and toys from the Animal House (according to Woofie)




The Animal House is special for so many reasons, among them because the owner, Woofie's friend "Judy," took photos of every doggie customer when the shop first opened and baby Woofie is featured on the "ceiling of fame" during her very first OC trip in 2005 at about 3 months old!!



Obviously, playing at the beach and all that relaxing can be exhausting, so frequent naps are a necessity.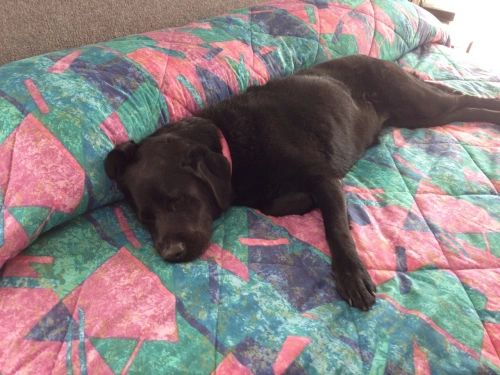 …Even if that means sneaking a nap on the big bed while Vanessa and David are at the beach (Shhhh…)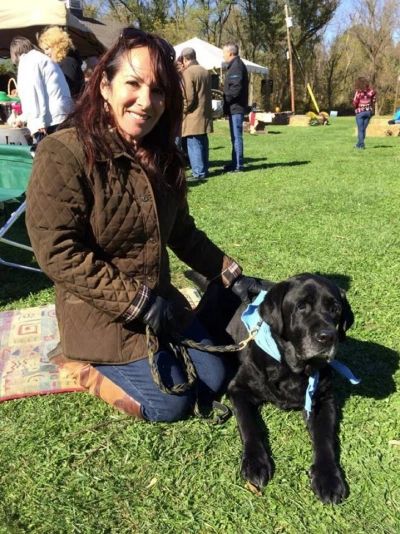 Just in time for Father's Day, Vanessa and David's friend, LisaBeth Weber, ran into our breeder, Wendi Huttner, of Ridgeway Labs, and Woofie's dog dad, Wes. He's a great dog at age 12 and has quite a collection of honors that you can see here. Happy Father's Day, big guy!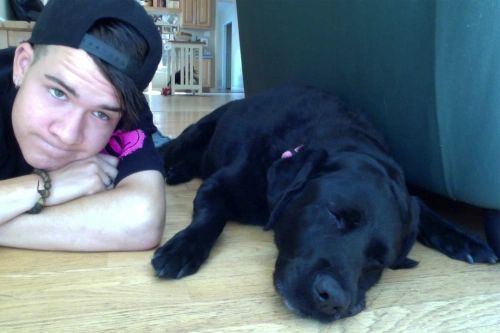 In August of 2014, we sent Charlie off to college but before he left, he spent some good times with Woofie reminiscing about their youth together. Woofie always looks forward to school breaks when she gets to see both her puppies come home!!




Now that Vanessa, David, and Woofie are three empty-nesters, there's always time for a good old fashioned road trip!
One of Woofie's favorite destinations is Baltimore because she gets to hang out with big sister Becca…




...at fancy hotels like the Monaco in downtown Baltimore that comes complete with doggie viewing chair and big windows, plus the usual Kimpton Hotel chain's dog amenities like a dog bed, dog bowl, toys and snacks!




Not to mention the fancy lobby where dogs can hang out at 5:30am like in this photo above - after going on an early morning walk with David.




Here's a great shot of Woofie relaxing on our 2015 trip to Washington DC.
She loves the DuPont Circle area - lots of good smells and its close to everything!




These mini-vacations with Becca are too much fun!
Here the two of them are planning out what they'll do together in the nation's capital.
Woofie's list: pull, sniff, pull, snack, pull, take a nap…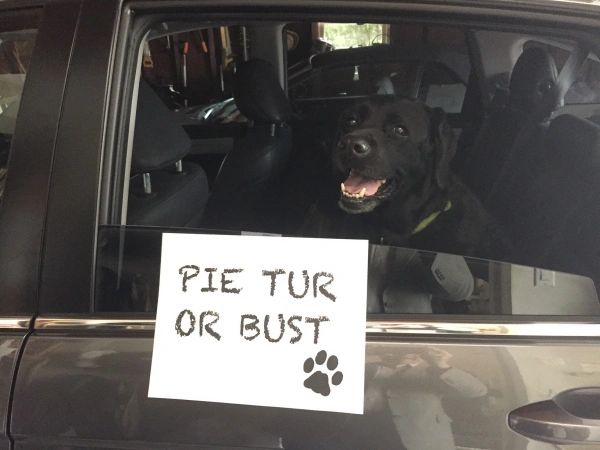 Our most recent trip was in April of 2015 and it was the Great NYC Pie Tour.
We stopped off at Petee's Pies on the Lower East Side of Manhattan for provisions:
Sour cherry pie with goat cheese ice cream; Coconut cream pie; Pecan pie.
Woofie gave each slice top reviews.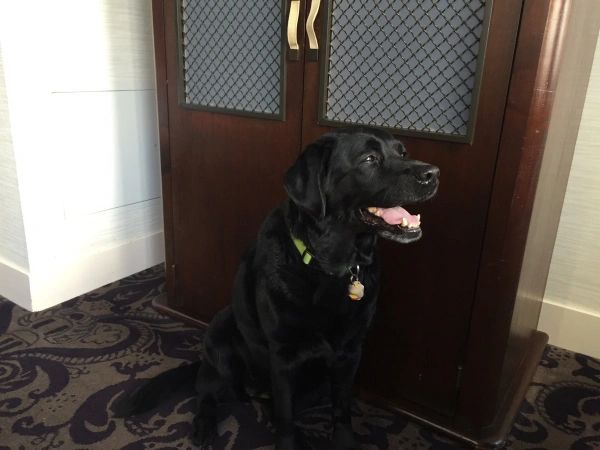 Here's Woofie enjoying the view from her Park Avenue pad (70 Park Avenue Hotel)
What does she see?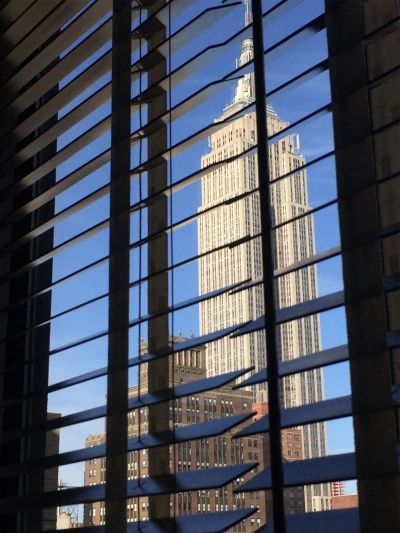 Not too shabby looking out on the Empire State Building!
Of note: The hotel is in Murray Hill, also known as "Curry Hill" because of its many fine Indian restaurants.




Woofie meets the two NYC Public Library lions, named Patience (south side) and Fortitude (north side - pictured here)
Take note of the young man standing on the steps…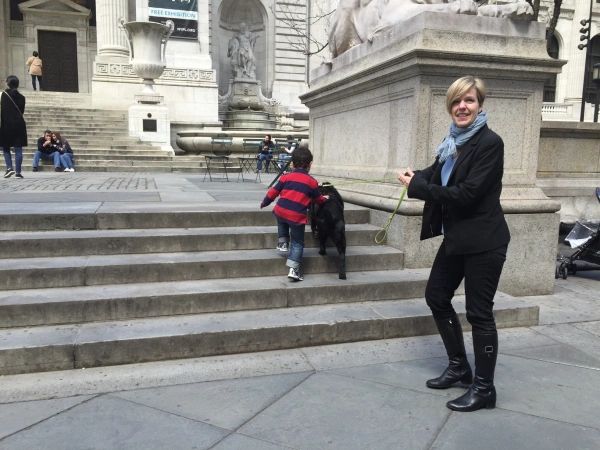 …Woofie almost adopted a New Yorker because he was so much fun to play with!




As you've come to expect, no annual update would be complete without the required "sleeping cow on the sofa" shot, so here it is!




Here's one more for good luck - check out those squishy cheeks!!!




What? Wait - is it time for another walk?




Woofie is off to more big adventures.
Thank you again for stopping by and we'll see you soon.
WOOF!





UPDATE 4/29/13 Woofie is EIGHT years old today! Wow - time is flying for our pup! So many exciting things to report... we better jump right into the update. Remember that Woofie also works part-time with David as Do It! Marketing Dog and thus, she would love to connect with you. You can also follow Woofie on Twitter. And just this year she has added LinkedIn to her online profiles.

Naturally, she is ALWAYS excited to receive email from her fans at woofie@whereswoofie.com. And she answers all her mail.
(It's great to have human staff!) And now - let's catch up with all of Woofie's 2013 adventures...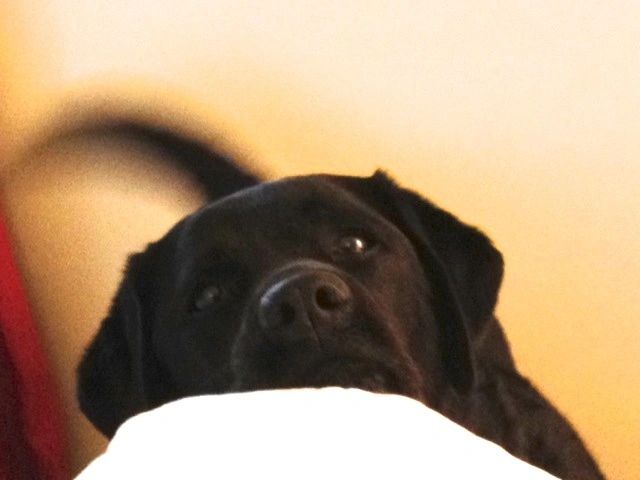 David and Vanessa find this face VERY hard to resist on Sunday mornings when we read the paper with Woofie




Becca is at college so Big Sister snuggles in the sunshine are definitely a treat when she's home!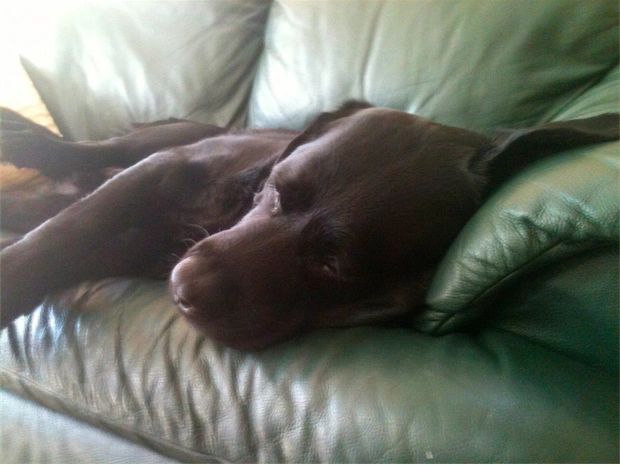 Doggie relaxation is definitely among Woofie's top talents. Look at that ear casually flopped over the sofa!




Naturally, this Upside Down Dog yoga pose is one that Woofie has worked hard on mastering for YEARS now... Good Girl!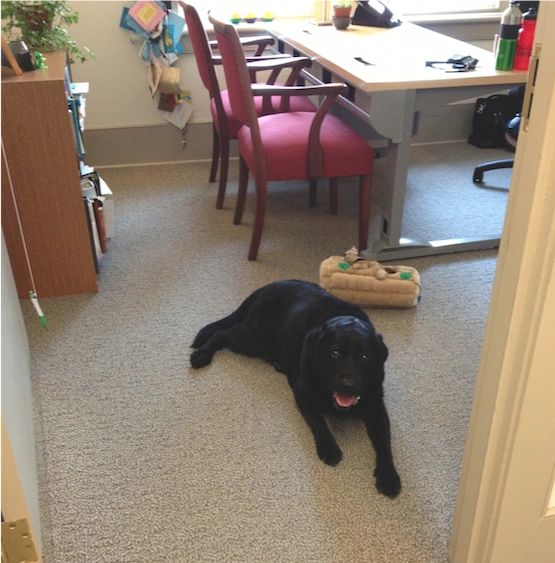 Here, Woofie is doing some excellent Community Service with her volunteer work during
"Woofie Wednesdays" at the College.
She's Vanessa's most enthusiastic CDO -- Canine Diversity Officer.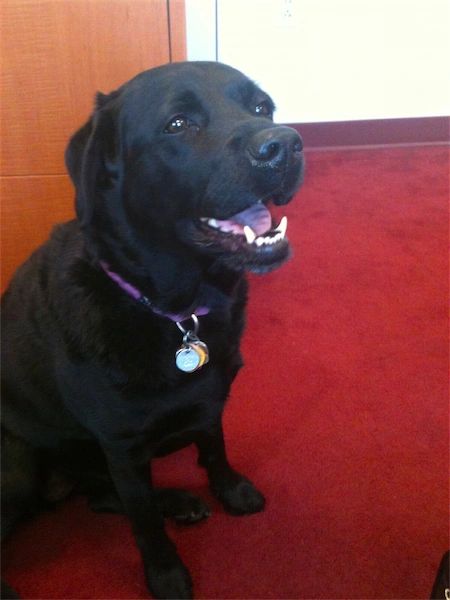 Woofie also spent some time in David's shared office space in Conshohocken.
Always good to put Marketing Dog in the field for some first-hand "meet and greet" opportunities.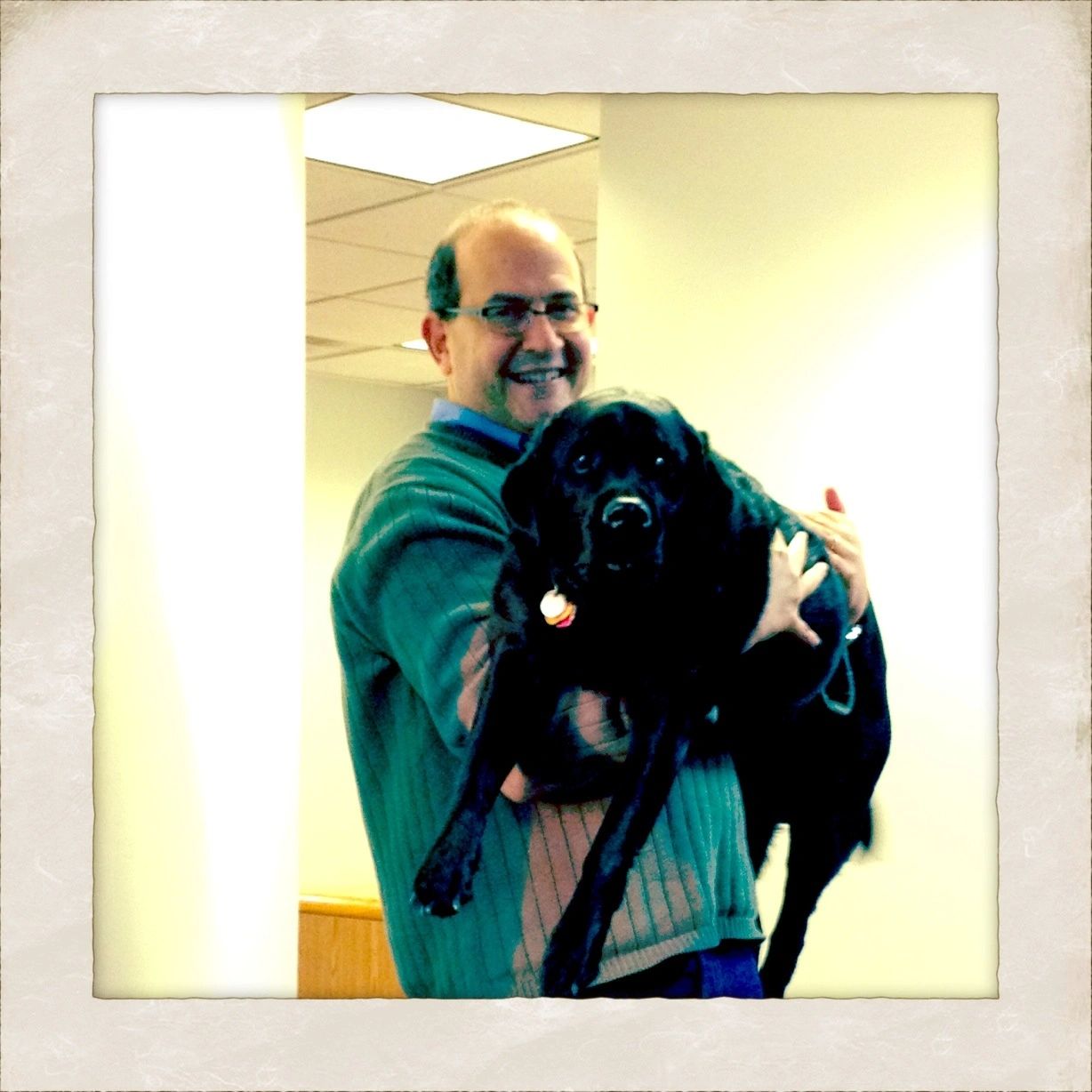 David's pal Chris DiFonzo snapped this photo of David and Woofie horsing around the shared office space.
Woofie is not yet sure if getting involved in Instagram is something she wants to do...
especially if all the photos involve being picked up like this.



Woofie is relaxing with the family on her 8th birthday.
She got some fun toys and treats, including a stuffed shark, stuffed sumo wrestler, toy cow, and a big bag of cookies from the Treats Bar at PETCO.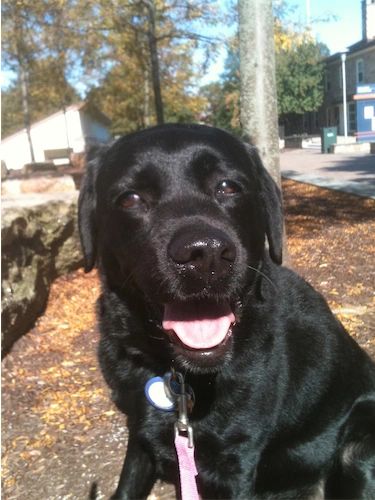 These three shots are from last year's visit to Goucher College to visit Becca.
As you can see, Woofie was cracking herself up the whole time!




Back home, we stay connected to Becca with Goucher Gopher apparel, including this snappy baseball cap!




Although we have a strict "No Dogs in Bed" policy at home, we DO occasionally relax the rules in hotels.
On the KIDS' bed only, right, Woof? (Note the uncertain look on her face. Poor sweetie!)



As we wrap up our 2013 update, Woofie is already starting to daydream about her next walk with David and Vanessa,
next road trip with the family, next visit to the dog park, and next summer's trip to the beach. So much to look forward to!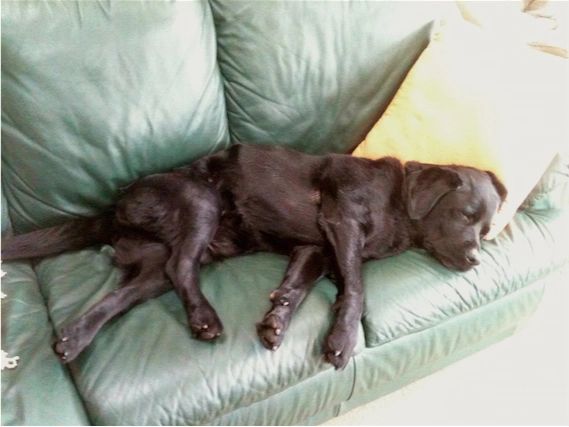 Better rest up! See you next time. WOOF!





UPDATE 4/29/12 - Woofie is SEVEN years old today! Lucky #7 for our big girl. So many exciting things to report... we better jump right into the update. Remember that Woofie also works part-time with David as Do It! Marketing Dog and thus, she would love to connect with you on Facebook here. You can also follow Woofie on Twitter. And just this year she has added LinkedIn to her online profiles. And now - let's catch up with the Woofster!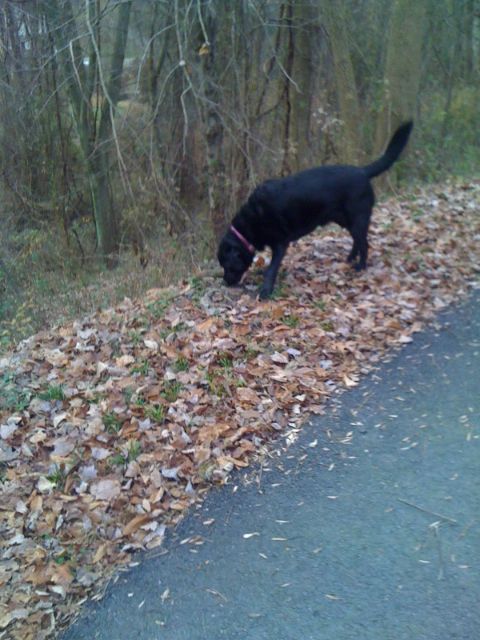 Woofie really loves our early morning walks. And a special treat is when we go over to the trails at Haverford Reserve. One of Woofie's favorite pastimes is BUMBLING through the woods, playing in the leaves, and exploring in and around all the trails. So many good smells everywhere!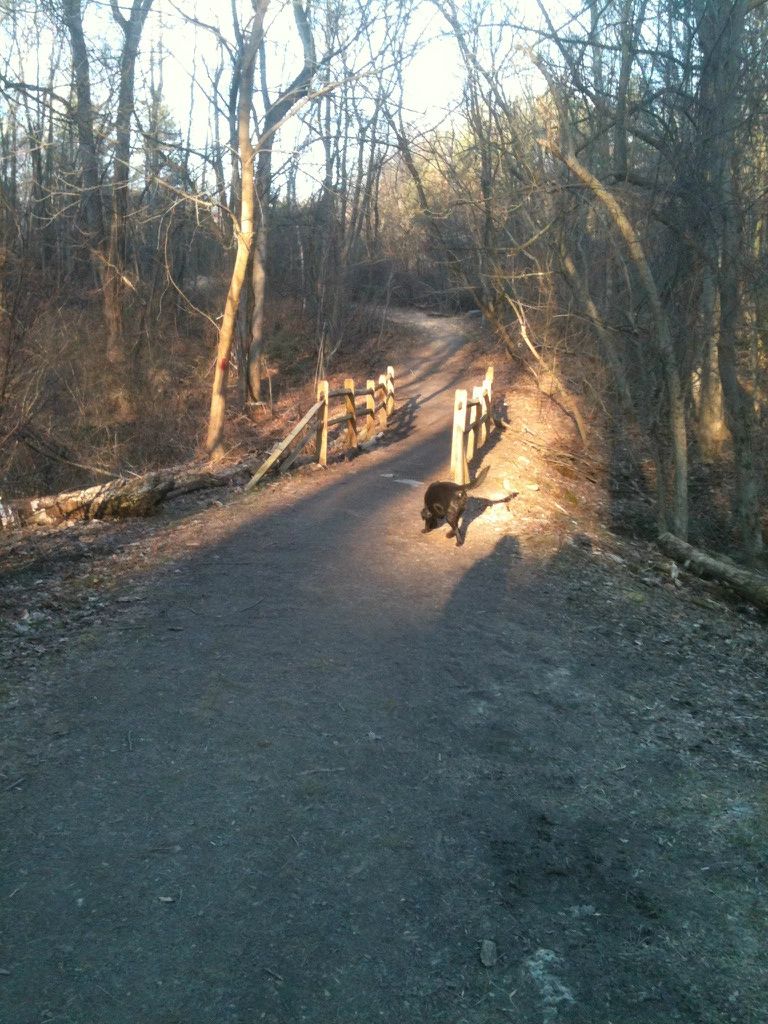 Here's Woofie heading out on one of the Haverford Reserve trails soon after a pretty awesome late Winter sunrise.





For a Labrador Retriever, Woofie sure does smile a lot!
(And in this case, David is NOT eating anything that Woofie is interested in so she must be smiling about something else altogether.)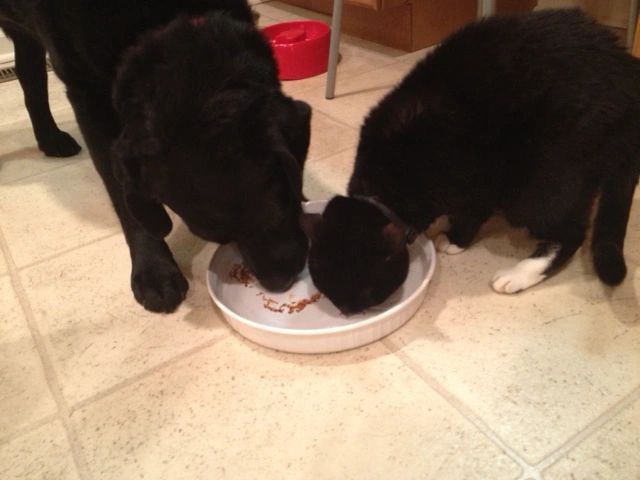 Speaking of smiling, Woofie and Mimi seem to provide endless entertainment for each other.
In this particular case, they are even learning to share nicely by "doing the dishes" together after
Vanessa made one of her delicious quiches. These two are ALWAYS so helpful!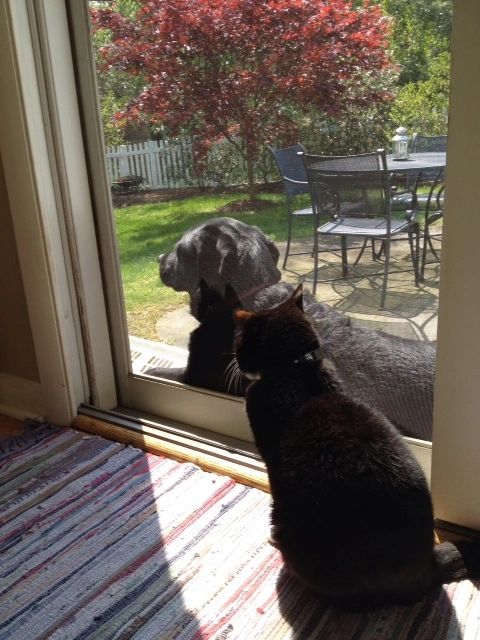 And here they are together once more enjoying one of the warmer days we've ever had
in April here in the Philadelphia area -- a whopping 88 degrees!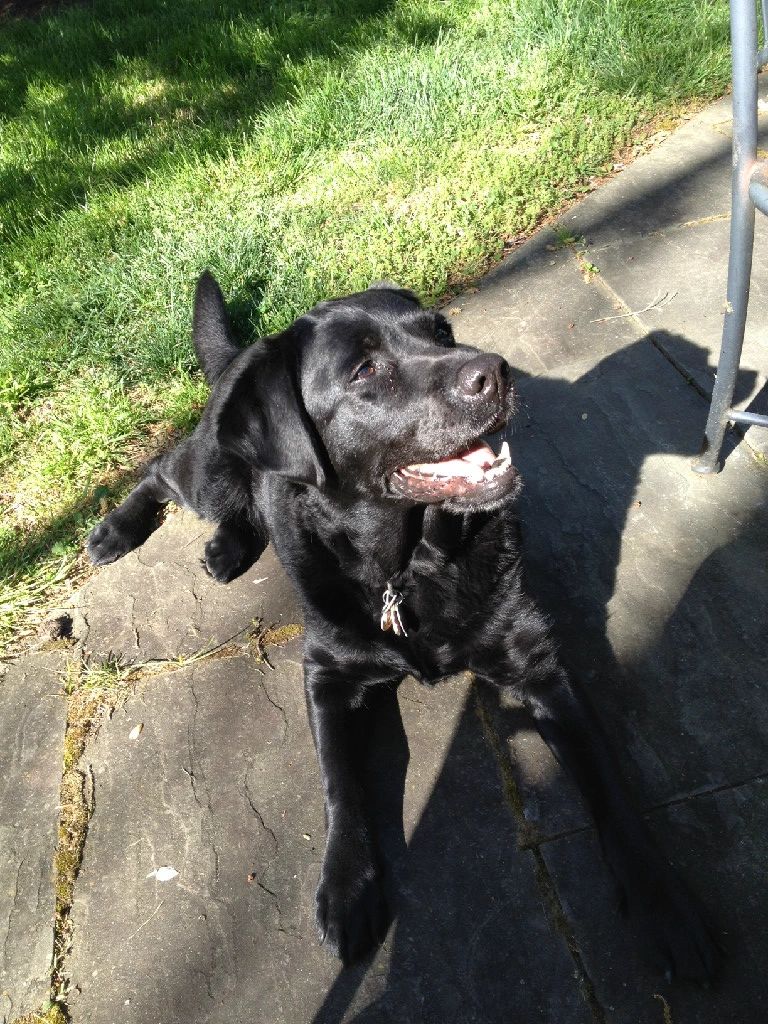 In this photo, you can see Woofie is starting to get a little gray under her chin.
But that's OK because as every fashionable dog knows, 7 is the new 4 so she is truly in her prime.
Silly and goofy and loveable - but prime nonetheless.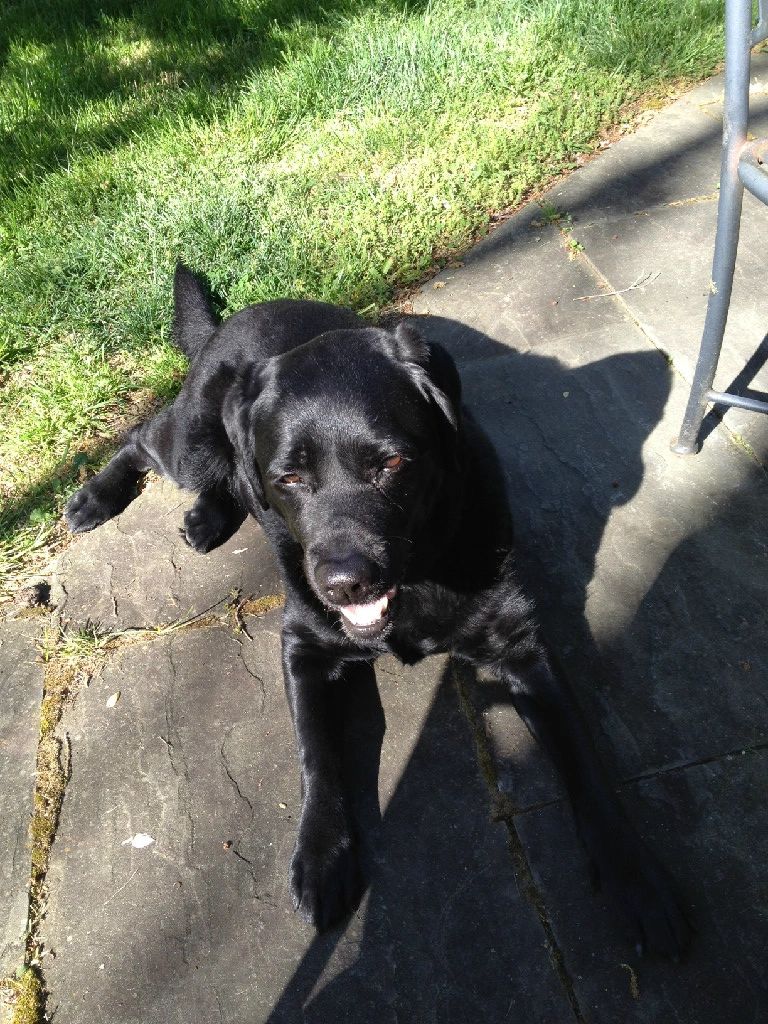 OK - Who's the pretty girl relaxing in the warm sunshine?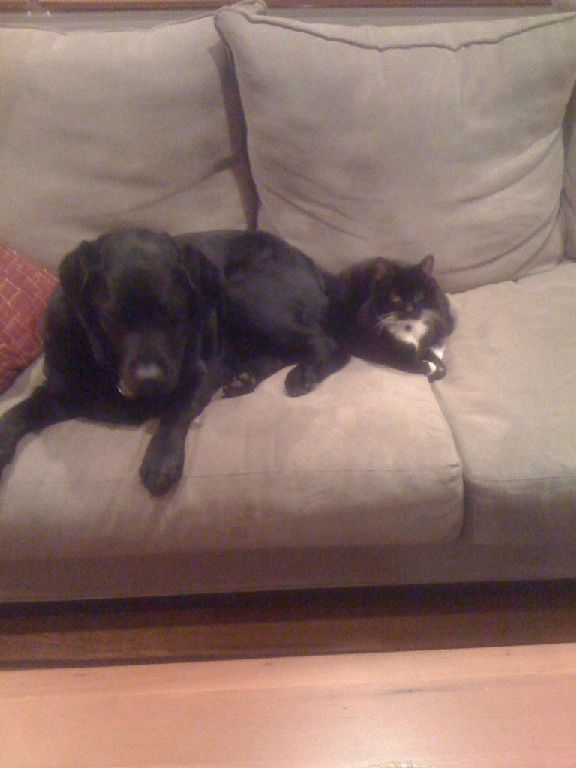 In a quiet moment when they both thought no one was looking, these two are catching up on their favorite reality TV programs and getting along famously. "What a difference from the times when the rest of the family is around... Wait - what?"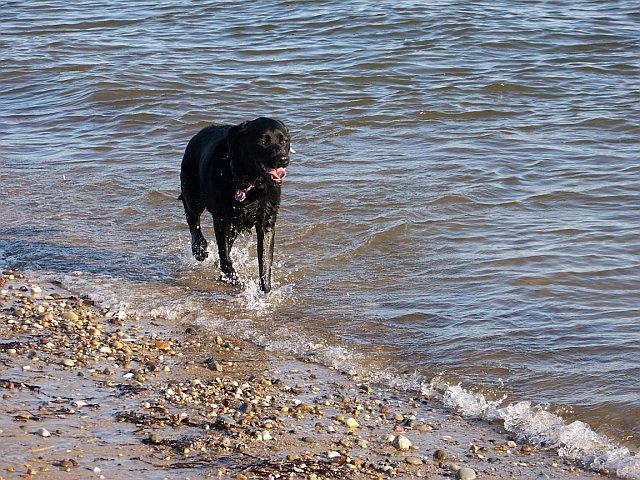 David loves this older picture of Woofie romping on the beach in Provincetown. It's the wallpaper on his old MacBook.
Since it was never added to Woofie's website til now, we thought we'd share it with you for old times' sake.




That wraps up our Woofie Update for 2012. Stay tuned for more - and as Woofie likes to say:
"Keep your eyes on the horizon, your nose aimed into the wind, and your soul ready for adventures!"





UPDATE 4/29/11 - Woofie is SIX today! Wow - time sure does fly. (It's almost like DOG years.) Happy Birthday, big girl! Don't forget to connect with Woofie via social media. She loves Facebook and would love to connect with you here. You can also follow Woofie on Twitter.
And now let's catch up with our big girl's adventures over the past year: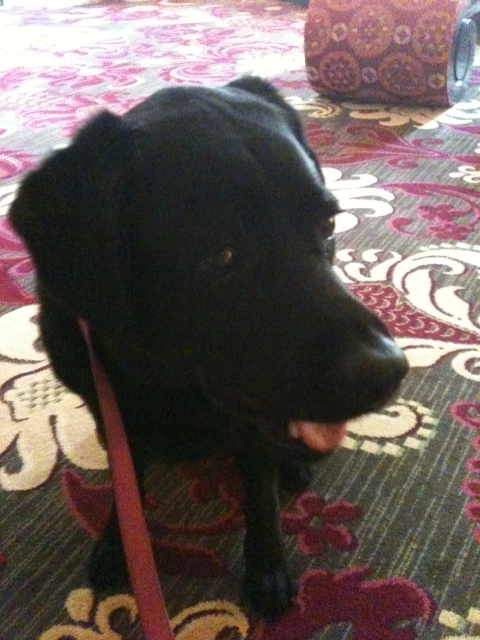 Here is Woofie checking in at the Hotel Monaco in Baltimore. She really enjoyed our visit especially because she knew that once Becca decided on Goucher College, there would be many more road trips to come!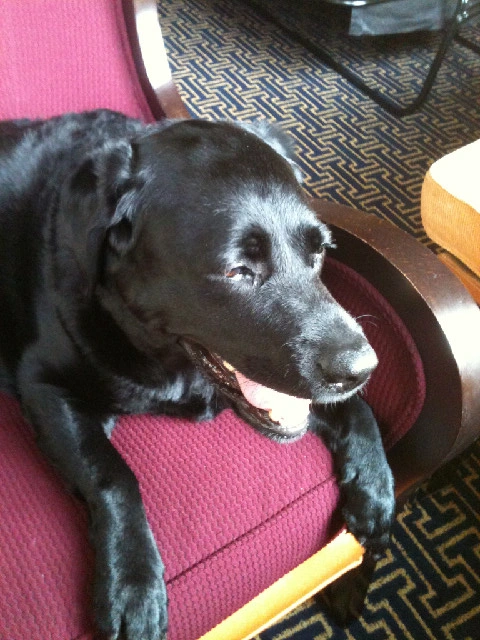 Woofie LOVED our hotel suite. Charlie set up her "viewing chair" so she could look out the window.
She got a doggie bed, doggie treats, and had full run of the place.
(It was a Kimpton Property and they're always pet-friendly!)

Woofie got some major media coverage as the "pizza-loving dog" after Becca took this photo of Woofie enjoying a bite of our favorite neighborhood pizza at Lovecchio's in Bryn Mawr PA. (Well, it might not be so major, but they DID put this photo up in their display window!)



Somebody just could not get enough of the blockbuster movie, Avatar.

Woofie continues to enjoy being a homebody, she loves our early morning Monday, Wednesday, Friday walks around the neighborhood, and she also loves chilling out in typical Labrador fashion. The above shows the pose we have to come to know as "The Iguana"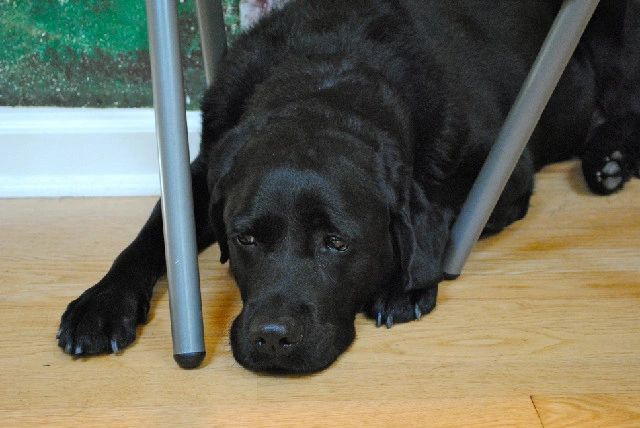 This variation is known as the "Iguana at Mealtime"

When not lounging around the house, Woofie loves playing outside. She especially enjoys carrying her indoor toys (of which there are approximately a zillion) to the outside, despite the fact that there are another boatload of outdoor toys already out there waiting for her.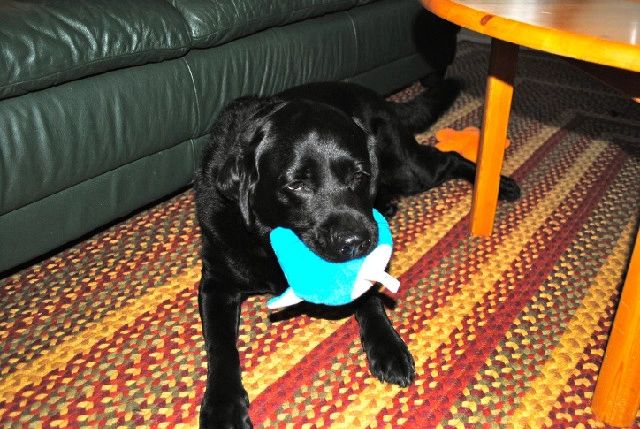 Here is Woofie enjoying one of her 6th birthday toys, inspired by David's favorite iPhone game, Angry Birds.


In October of 2010, Vanessa and David (aka Mama-Dog and Daddy Dog) took an amazing vacation to Greece to celebrate their 25th wedding anniversary. On this trip, they met many dogs of all shapes and sizes. Most were strays who just "hung out" in the streets, ate from scraps on the street, and would occasionally snooze on a welcoming shopkeeper's floor before moving onto their next adventure. THIS little fellow almost became Woofie's pack-mate when David was tempted to stuff this adorable little guy into his suitcase. Glad Mama-Dog was there to prevent this spontaneous adoption/kidnapping :o)

During our annual Fall apple-picking visit to Highland Orchards, David and Becca decided to see how Woofie might look as Mother Teresa for Halloween. Woofie was very good-natured about the experiment. (She ultimately decided to suit up as a Black Lab for Halloween!)

This photo - although it's from last year's trip to Boston with the family - is still one of Woofie's favorites.
Look at that loose leash and great posture - What a good dog!


(Aunt Kris really wants a dog which is why she's "borrowing me" in this shot!)
This is another shot from 2009 because Woofie realized we didn't have any photos of her with the extended family on our annual Christmas tree hunt.

Waiting for Santa...

Woofie has become quite handy at helping the family finish off a variety of dairy products ranging from sour cream, ricotta cheese and shown here - her all time favorite, a big container of yogurt. It's a snack AND a toy combined in one. Doesn't get much better than that!

After the kinds of hard work you've already seen Woofie involved in on a daily basis, you will not be surprised to learn that she enjoys the occasional wintertime nap all snug and tucked in on her favorite green sofa. The fact that this happens to be Vanessa and David's favorite green sofa tends not to bother her most days.

Napping is always more fun with a friend. And when you can't find a friend, sometimes a cat will do nicely!!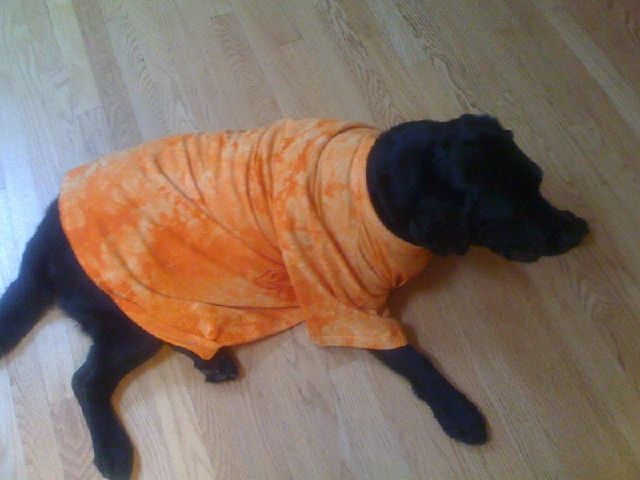 When it's time to kick back and relax, there's nothing like getting comfortable in one of your favorite old T-shirts, right?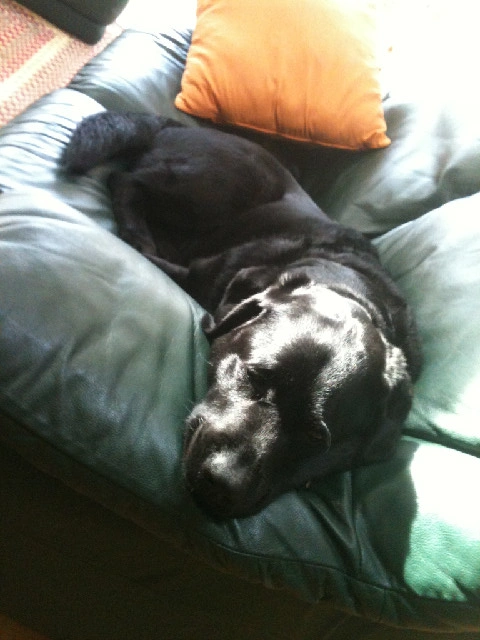 Well that just about wraps up this update.
Woofie reminds you to keep snacking, kiss your friends, wag often, and never miss a chance to enjoy the sunshine on your face!

UPDATE 4/29/10 - Woofie is FIVE years old today!
Happy Birthday, big girl!
Over the past few months, Woofie has really come into her own with technology. She is an avid Apple fan (she still likes apples too - see below) and has gotten very involved in social media. She's all over Facebook and would love to
connect with you here
if you're also into canine social media. You can also
follow Woofie on Twitter
. And now let's catch up with our big girl's adventures over the past year. Here we go...
The kids really enjoy apple picking in the Fall.
Becca is considering whether or not to give Woofie ANOTHER apple core...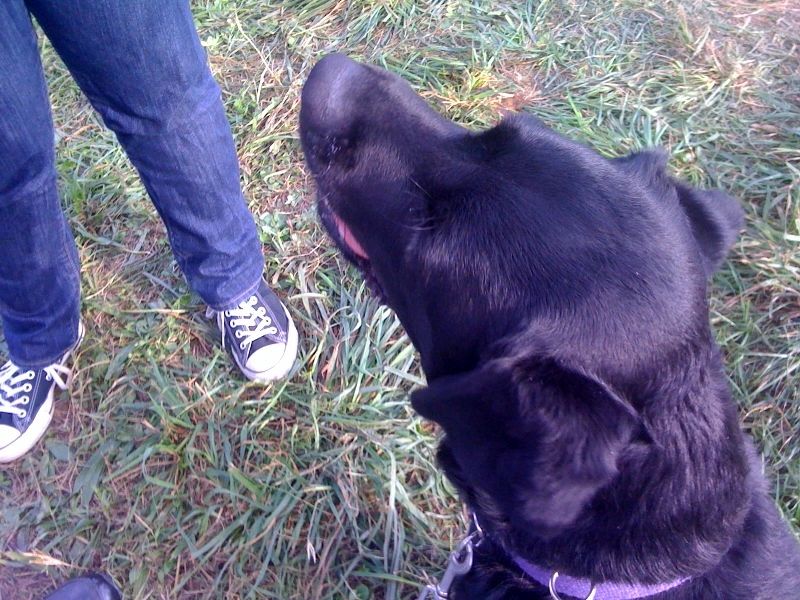 Woofie is hoping the answer is YES!
Woofie was very excited to serve as the "Dog of Honor"
at the wedding of our pals, Darla and Betsy in Provincetown, RI
Woofie is romping here at the reception/clam bake on the beach (she likes clams!)
Woofie REALLY loves traveling in the car with the family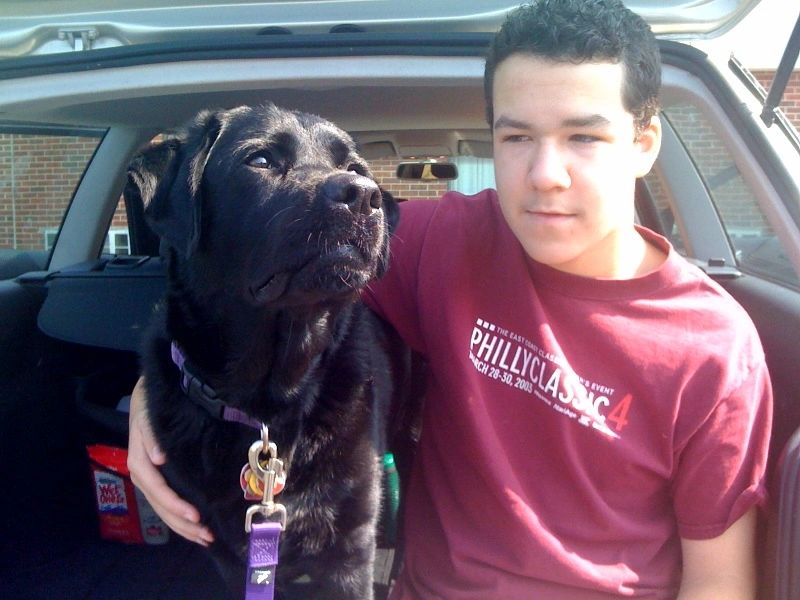 Woofie and Charlie - "ROAD TRIP!!!"
The big sofa continues to be among Woofie's
favorite spots to relax
Woofie is enjoying her new iBone.
She really doesn't know how she did without this magical device
for so long. She loves the snacks... err, apps!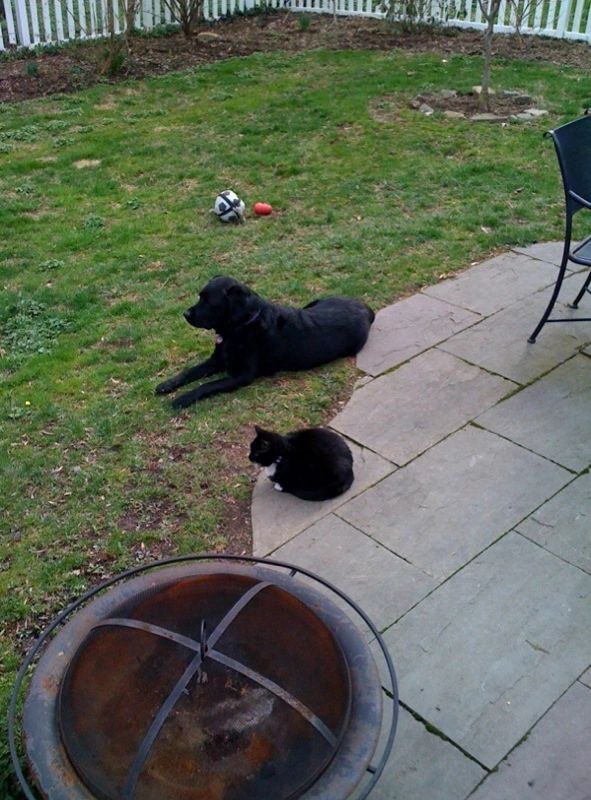 Here's a nice outdoor moment with Woofie and Mimi the cat
Woofie REALLY likes her doggie sofa - this is actually where
she is SUPPOSED to be relaxing, but don't tell her...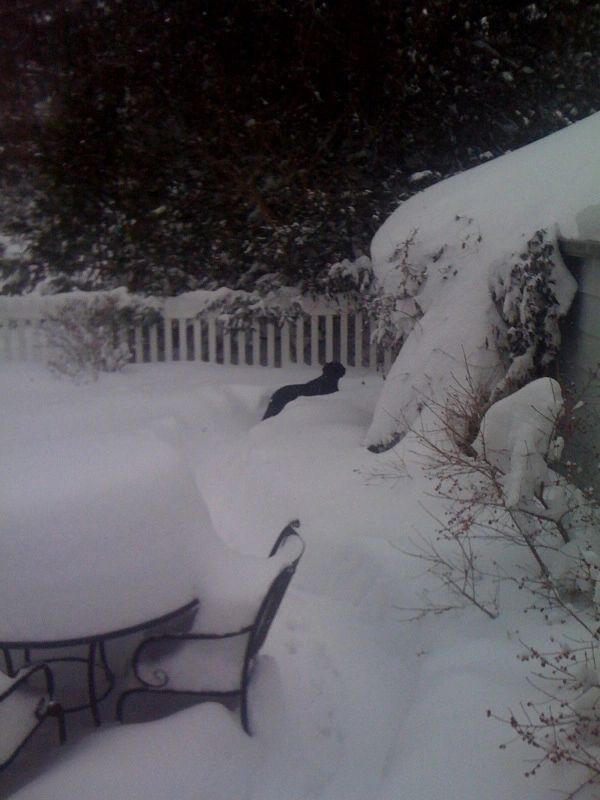 In the first few months of 2010, the Philadelphia region had record snow...
Three of the top 10 snowstorms on record ALL came this winter.
This made backyard frolicking challenging for Woofie but she did great!
Once Spring came, Woofie started to enjoy more sunbathing

Woofie!!! Gosh, this is embarrassing...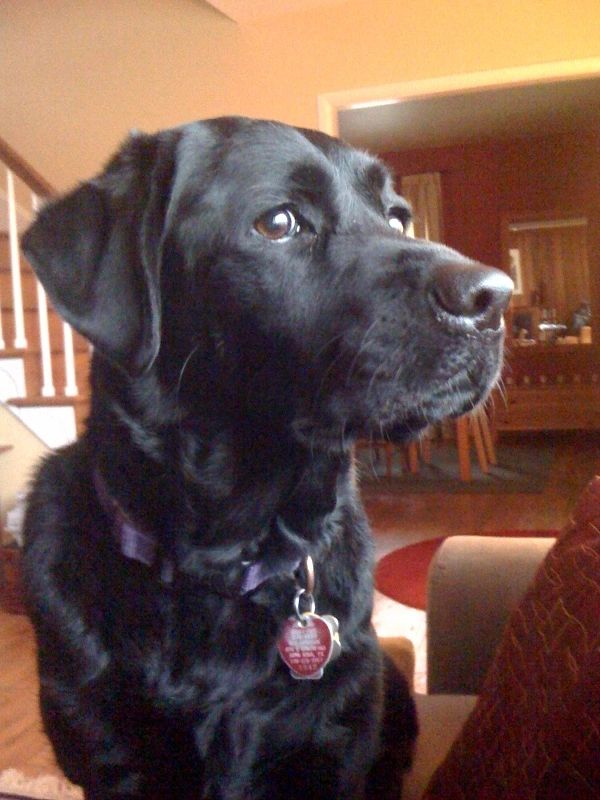 Ms. Woofie surveying her domain
UPDATE 4/29/09 - Woofie turns a BIG 4 years old today! She has to be one of the sweetest dogs around... Woofie continues to enjoy her morning walks with Vanessa and David. She REALLY likes the new convertible (lots of ears-flapping-in-the-breeze opportunities). And, naturally, as a Labrador Retriever, food, snacks, and treats continue to loom large in her world. And toys. And naps. And being groomed by Charlie. And watching TV with Becca. And singing along anytime she hears the "Happy Birthday" song. Here are more photos to keep everyone up to date on her adventures.

If you'd like to drop Woofie an email, click here - she's always eager to hear from new friends. On with the show...
Woofie relaxing at home... at least until Vanessa gets in her car
so Woofie can jump right back onto the sofa!

A calm moment of Labby snoozing...

Woofie loves a nice Springtime romp on the beach... brisk and refeshing!

Who's a big wet dog?!?

Woofie adds new meaning to the phrase "Beach ball"

Sniffing around Charlie Barone's pad... "Hmmm, smells like Dominique was here..."

Dog beach!

Tennis, anyone?
UPDATE 4/29/08 - Woofie is 3 years old today! Here are more photos from an action-packed year. Woofie explored more beaches. She ate LOTS of snacks. She relaxed on more sofas. She took many early morning walks with Vanessa. Woofie also enjoys lying at our feet during meals at the kitchen counter, watching TV (especially Oprah!) next to Rebecca after school, playing bubbles with Charlie, and playing "Kung Fu Dog" with David. Take a look at her latest adventures...
Woofie enjoying her Rasta phase [this shot also appeared on the label of Woofie's
limited edition Jones Diet Cherry Soda!]
Woofie is such a good traveler - here she's helping David get ready for a family road trip!
Woofie always enjoys the 4th of July festivities... especially the snacks!!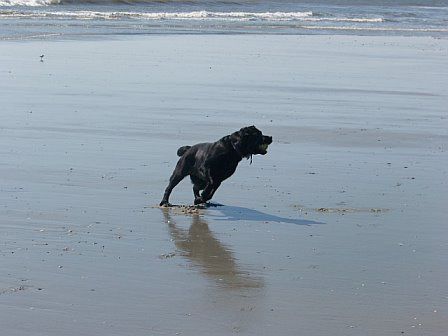 Woofie playing ball in Ocean City - Spring Break 2008
Woofie and Vanessa running on the beach near 9th Street
Woofie waits patiently at the hotel while we eat at...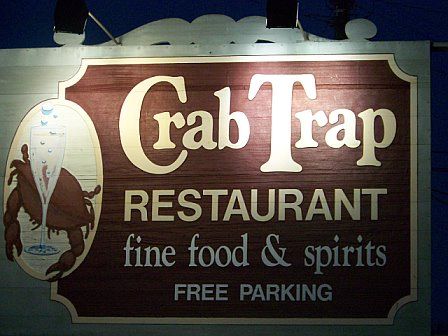 A dog needs her beauty sleep... pack nap with her "puppies"
Braving the waves... Woofie is learning to be a real water dog!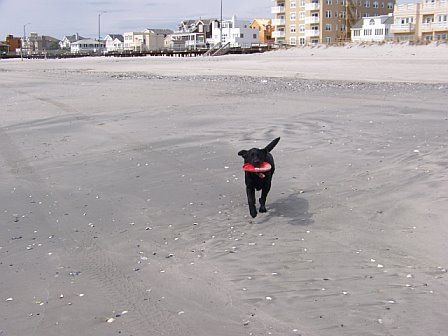 Frisbee, anyone?
Woofie relaxing at home in one of her favorite spots - the "snack rug"!!
UPDATE 4/29/07 - Woofie is 2 years old today! Time flies when you're having fun. Here are some pictures Woofie wanted to share with everyone. These should give you a pretty good idea of what we mean when we say, "it's a dog's life."
Woofie really loves running and playing on the dog beach with her 'puppies':
Here's Woofie on her first visit to Pat's Steaks in South Philly:
For sisters, these two sure don't look alike... maybe that's why Woofie calls Mimi "Funny Puppy"
Charlie likes relaxing with the dog... and sometimes ON the dog:
Nothing beats hanging out on a lazy weekend with the family: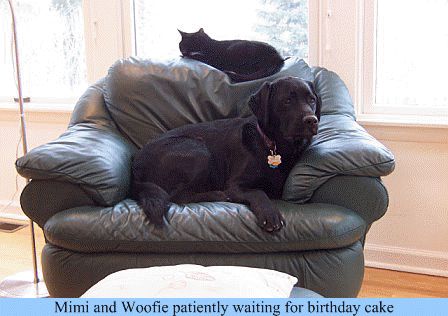 UPDATE 4/29/06 - Woofie is 1 year old today! In honor of her big day, here are some new photos from the archives: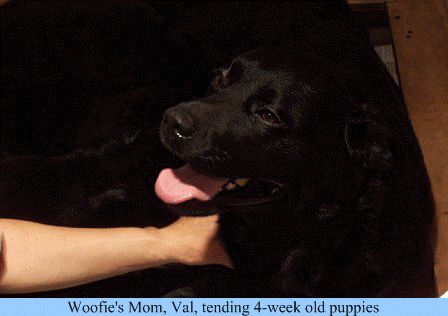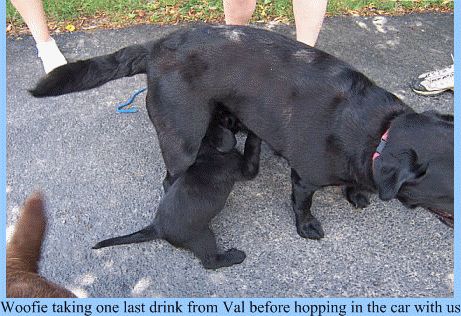 Woofie, of course, is all grown up now as a big 1-year old. Here are some recent shots of her laughing and relaxing. (I bet you didn't know dogs could laugh, right?)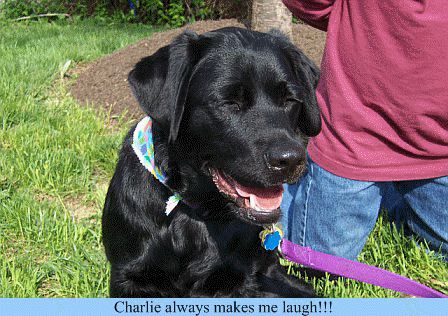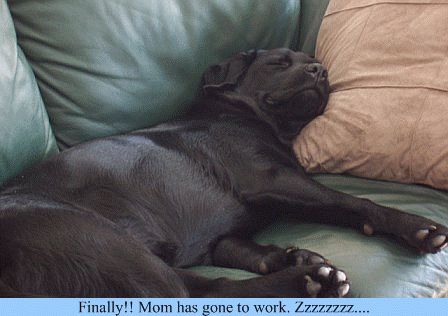 She may be getting to be a big girl, but she'll always act like THIS on the inside: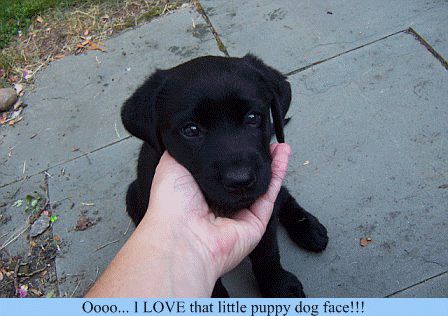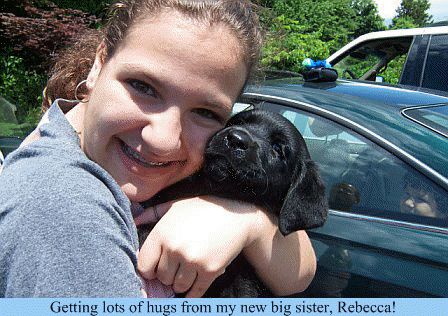 Woofie joined our family on Friday, June 17, 2005 after being born on April 29, 2005. She's a beautiful (and chewy) little Black Labrador Retriever from Ridgeway Labs in Richboro, PA.
As you can see from this picture below, Woofie started at a young age to be inquisitive, daring, and adventurous. She also did a pretty good job of picking us out as her new family!
Woofie came home in the car with us, and life has never been the same... for ANY of us (and that's a GOOD thing...)
Here's Woofie settled in comfortably at about 9 weeks old. Under this table is one of her favorite spots, since it's in close proximity to her best friend, the air conditioning vent!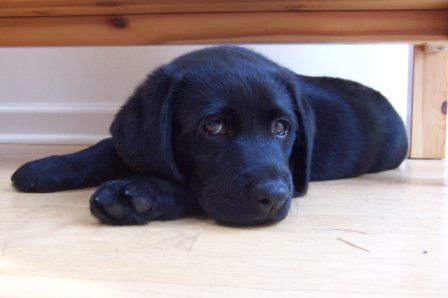 To see the updated list of furniture that Woofie is busy chewing, please click here.
And, finally, to send Woofie a personal email, please click here. We will update this site regularly with more pictures of Woofie, and invite you to send us pictures of YOUR pets as well! Remember: not every pet has her own website, but every pet is SPECIAL!!!
-- Woofie, Rebecca, Charlie, Vanessa, David and Mimi the Cat